Forgive me if you're a seasoned long distance walker who already has all the gear to set off on a mountain trek like the Tour de Mont Blanc. If you're an occasional walker like me, however, you may find it useful to know which pieces of mountain clothing are worth the investment and which will only get worn once or twice. Ellis Brigham Mountain Sports have expert staff and huge selection of gear.
Having walked part of the Tour de Mont Blanc two years running, I had a much better idea this second year of what I should pack for my trek in the mountains. Bearing in mind that you'll need to carry everything with you (no Sherpas in the Alps), the trick is to take just the right things and no more. Here are the things that earned their keep in my backpack;
Essential clothing for walking the Tour de Mont Blanc
Walking Boots – It goes without saying that you'll need a comfortable pair of walking boots with good ankle support. So long as you've worn these in and are sure they won't give you any trouble, this could be all the footwear that you need while you're up on the mountain trails, although when you come down to the valley you might want some lightweight trainer style shoes. All the refuges that we stayed at provided slippers or plastic clogs to wear inside the refuge. If not you can pad around in your…
Walking socks – I always treat myself to a couple of new pairs for a trip like this. I found 2 pairs was enough for the 3 days we were walking, I might stretch it to 3 if I was doing the whole 12 day trail but the trick is not to over-pack but to rinse out and dry overnight if they're getting too smelly. I also had some lightweight cotton socks for wearing in the refuge at night. And of course for the changeable mountain weather you'll need a good…
Waterproof Jacket – Mine was a rather fetching cream Gore Tex jacket which I got from Ellis Brigham who specialise in mountain and outdoor clothing including womens waterproof jackets like mine. It packed up quite small but was substantial enough to keep off the morning and evening chill when you get up to altitude. I loved the cream colour, although my husband urged me to choose a more practical colour and I've found that you can easily wash it when it gets grubby. My jacket has plenty of zip pockets and a hood with visor that zips away into the neck when not in use. My last waterproof jacket saw me through a trip into the rain-forest of Ecuador 3 years ago and has been earning it's keep ever since, so I have high hopes that this new one will last me a few years until I can finish the whole Tour de Mont Blanc.
I hope you enjoy the video below about what to wear for a walk in the Mountains on the Tour de Mont Blanc
If you can't see the video above, please view it on my blog
Walking trousers – I took one pair of walking trousers, also from Ellis Brigham that were made of a quick-drying, lightweight fabric with a comfortable waist and zips on the legs to make them into shorts. I wore the same pair every day, only changing on arrival at the mountain huts in the evening. You should avoid heavy cotton trousers or (God forbid) jeans what will mark you out as a fair-weather walker,  leave you soggy if there's any rain and take ages to dry. Like my jacket, the trousers had lots of useful pockets for lip salve, maps and cameras. And on your top half you'll need…
Walking t-shirts – I walked in a stretchy running t-shirt that I already owned, but if you're buying anything specially, look for the lightweight, quick-drying fabric or specially treated Merino wool that is ideal for walking as it wicks away sweat and keeps you cool. I did alternate with a running vest but it's probably preferable to wear t-shirts that cover your shoulders to avoid any painful sunburn if the sun is out, or you'll spend all your time slapping on the sun cream. Of course if you're not so lucky with the weather and it pours with rain you'll need some…
Waterproof trousers – on both my trips, these were the least used item in my backpack, but then we were walking in August and were blessed with sunshine for most of the time. I did, however, hear tales of walkers who had bad weather for several days in a row and in this case your waterproof trousers will keep you comfortable and dry. Unless you do a lot of walking, I personally wouldn't invest a lot of money in waterproof trousers, but would buy something inexpensive that will pack up small, but still do the job of keeping you dry.
Clothes to wear in the mountain huts on the Tour de Mont Blanc
When you arrive at your mountain refuge, the etiquette is to remove your boots at the door and you will normally be offered some slippers or plastic clogs to wear inside. Typically you would shower before dinner (if the refuge has a shower – some of the more remote ones don't) and then change into your refuge wear which for me was….
Stretchy running trousers – these were comfortable, quick to dry and could double up for walking if necessary and I also wore a…
Lightweight cotton t-shirt that I kept just for the refuge and only put on after I had showered, so it didn't get too sweaty.
My refuge outfit doubled up as pyjamas as I discovered that the sleeping arrangements were mostly communal with men and women sleeping together, sometimes in large dorms, so it was a bit pointless to pack your pretty nightwear. To keep warm I also had…
2 fleece tops – One was a zip front mid-weight fleece that I also wore when walking if I was cold, the other a lightweight long sleeve fleece t-shirt that would go over  a short sleeve t-shirt. I found last year that I under-estimated how cold it could be in the evening at altitude in the mountain refuges, so I found that 2 fleeces that could be layered kept me cosy.
You can see the contents of my rucksack laid on the bed in the photo above and the list of what I packed below (bearing in mind that we were only walking for 3 days, rather than the whole 12 day tour)
Clothing
Walking boots, 1 pair Walking trousers, 1 pair jogging bottoms, 2 quick drying t-shirts, 1 light cotton t-shirt, 1 long sleeve fleece t-shirt, 1 mid weight zip front fleece, 2 pairs walking socks, 1 pair light cotton socks, 1 pair waterproof trousers, sunhat, underwear
Other stuff
TMB walking guide, TMB map, miniature medical kit, small size toiletries, tissues, wet wipes, suncream, camping towel, silk sheet sleeping bag, camera, video recorder, audio recorder, mobile, enough cash for our whole walk, walking poles.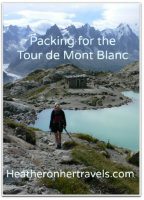 You'll also be subscribed to our free monthly newsletter for great travel resources, news and offers, but you can unsubscribe at any time and we'll never share your e-mail.
More useful information for walking the Tour de Mont Blanc
If you need an airport transfer from Geneva for the start of your summer walking or winter ski holiday, you could try ChamonixFirst who offer both private and shared transfers to Chamonix as well as their sister company CourmayeurFirst for transfers to Courmayeur and the Aosta Valley.
My thanks to Ellis Brigham for providing some of the clothing I used for this year's walk. I highly recommend them for mountain and outdoor clothing, with shops in the UK and an online store. You can follow them on Twitter @ellis_brigham and on the Ellis Brigham Facebook Page with Videos on Youtube and on the Ellis Brigham blog.
More tales from the Tour de Mont Blanc
What I packed for my mini Tour de Mont Blanc 2010 – video
My second year on the Tour de Mont Blanc – video diary 2011
Tour de Mont Blanc 2011 Day 2 – Col de Balme to Champex
This article is originally published at Heatheronhertravels.com – Read more travel articles at Travel Blog Home
You'll also find our sister blog with tips on how to build a successful travel blog at My Blogging Journey
Don't miss out – subscribe to Heather on her travels