September 15, 2014 by Guest Author
Filed under Accommodation, Cambodia, featured, Guest post, Leisure, Misc, Nature, Photography, Sightseeing, Walking, World
In this article our guest writers, Illia and Nastia share their tips for visiting Anghor in Cambodia – while it's a one of those must-see sites with a huge amount to cover in a day or two, we find out whether the heat and high prices were worth it.
Angkor, a UNESCO heritage site, is considered to be a photo paradise. Unbelievable sun rises, ancient ruins and wild rainforest combine to make this place unbearably attractive for any photographer. Of course, we weren't that lucky: while we enjoyed ancient ruins, it was raining, cloudy and gloomy. The temperature was either extremely high (in the middle of the day) or extremely low (early in the morning), so it was pretty hard to choose what to wear. Nevertheless, we managed to take a few of pictures and now want to share them with you.
When you depart early in the morning from Siam Reap, the nearest Cambodian town, it is 6 o'clock in the morning and the only thing you can think about is how much you want to sleep. The wind blows through an open tuk-tuk and it's freezing cold. The price of the entrance tickets – $40! – quickly wakes you up and here you are, awaken and ready to explore ancient Hindu-Buddhist temple complex. Ancient? Hmm, not really. In fact the majority of temples were constructed in the 12th-15th centuries. However, if Lara Croft considered it to be old enough to die for its treasures, we can assume that it's old enough to pay $40 entrance fee.
The Angkorian period began in AD 802, when self-confident Khmer monarch Jayavarman II decided that he was a "god-king" and "universal monarch" and lasted until the late 14th century, when Ayutthaya conquered "god's territories". Khmers didn't like it and organized a rebellion which resulted not in freedom, but in migration of population to Longvek.
The complex includes so many temples that it is physically impossible to visit all of them. Scientists believe that some of them are still hidden in jungles and are impossible to reach both for tourists and explorers. Many temples are built on moors, so it's hard to understand how Khmers managed to access them at all. We took a traditional two-circle tour (small + big circles) and were completely satisfied with the amount of ruins we saw.
Interestingly enough, these ruins were never used for living or praying in them, but were rather considered to be home for gods, accessible only for priests. The great-grandchildren of the architects and constructors believed that the temples were erected by gods. In 1850 Angkor was found by a French priest, owing to whom it became a popular destination for European tourists and researchers.
Nowadays there are so many tourists in Angkor that sometimes it's impossible to take a picture. The situation is worsened by numerous local sellers, trying to persuade you to buy totally unnecessary stuff. In addition to the crowds of tourists there are lots of orphans hanging around in Angkor. At first, it looks strange, but in fact there is nothing surprising about that: there are several orphanages in the temples' neighborhood. Orphans either beg for food and water, or collect plastic bottles, thrown away by tourists, to sell them to recycling companies. Even though the life style of these children is miserable, they don't look unhappy: we saw lots of them playing in the jungles and riding the vines.
To cut a long story short, the visit to Angkor can be described as follows:
Day 1 – Wow! Ancient ruins!!! I must see ALL of them!
Day 2 – Hm, that is interesting collection of stones, I think it differs a little bit from the previous temple.
Day 3 – I am fed up with heat and rocks! I want ice-cream and rest.
That's why we conclude that two days are enough.
In general, visit to Angkor was unusual and quite inspiring experience we highly recommend to everyone visiting South East Asia.
Practical information for visiting Angkor
How to get there: from Cambodian town Siam Reap you can take a tuk-tuk ($7) per day or a bike ($4). Take into consideration that Angkor is pretty big; walking might take too much time.
Cost: $40 for three days
Where to stay: Only in Siam Reap – our budget (but totally fine) hotel cost $6 per night for double room.
Where to eat: Only in Siam Reap. When going to Angkor, take food with you, since it is quite expensive to eat there.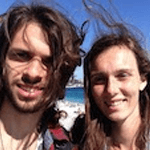 Many thanks for this article to Illia and Nastia who are passionate about each other, traveling around the world and sharing their experiences at crazzzytravel.com, a blog where you can find plenty of budget travel tips as well as practical information about numerous destinations. They have already been to 33 countries on 4 continents and ain't no stopping. Visit their Facebook or Google+ pages and follow them on Twitter.
For more things to see in Southeast Asia:
The highlights of Phnom Penh – Cambodia
Take your hobby on holiday – follow your interests in Vietnam
The Best Places to Snorkel in Thailand
Photo Credit: All photos by crazzzytravel.com
This article is originally published at Heatheronhertravels.com – Read the original article here
You'll also find our sister blog with tips on how to build a successful travel blog at My Blogging Journey
If you have holidayed in Europe then the likelihood is that you've visited the Mediterranean Coast. Stretching from the south coast of Spain to sun soaked Cyprus, the Mediterranean coastline encompasses some of the most beautiful parts of Europe. But if you only explore it one beach at a time can you really say you've seen it in its full glory? With dazzling stretches of shoreline road and cliff top views, why not take to four wheels and explore one of these fantastic routes:
Cassis to La Ciotat, France
At just 12 miles long, this short but sweet jaunt hugs the shoreline of the southern French Coast. Navigate your way between two of the region's most unspoilt seaside towns Cassis and La Ciotat and negotiate the high altitude Route des Crêtes over Cap Canaille. Cap Canaille is one of the tallest maritime cliffs in Europe and the views from the top are truly spectacular.
Cassis itself is perhaps one of France's best kept secrets. Charming, quaint, and picture perfect, it has maintained the appeal of a coastal fishing village whilst succumbing the laid back lifestyle of its Rivera counterparts (minus the crowds). Cassis is full of character so be sure to take a leisurely stroll through the old streets that offer a quintessentially 'South of France' experience.
Whilst it may be tempting to fill your camera's memory card with pictures of Cassis remember to save some space for the drive! Les Route des Crêtes offers panoramic views over some of the most superb scenery in Provence. Whilst the route is only 12 miles long, the roads are steep and winding. They can be narrow in some places, so adopt the laid back Riviera attitude and take your time. The slower pace will give you more opportunity to enjoy the beautiful views of the coast, the mountains and the countryside in between!
Hiking trails lead off the road at a number of viewpoints. Why not break up the drive with a short stroll? Stretch your legs and get a closer look at some of the unusual rock formations that make the landscape so striking. Your vantage point up high on Cap Canaille also gives you a chance to experience a different perspective of the coastline and the hidden seaside gems of Cassis and La Ciotat. Rather than seeing things from ground level, your bird's eye view puts this stunning section of coastline in perspective geographically. It's an opportunity to experience the area as a whole, in all its natural glory.
But the beauty doesn't stop there! La Ciotat is a truly authentic French town, having so far managed to side step the influence of tourism. Home to an array of unique boutiques and a lively market on Sunday mornings it is the perfect place to pick up a souvenir or two to complement your bursting holiday photo album. Like Cassis the centre is made up of winding streets and shady squares dotted with relaxed cafes and delicious restuarants. Finally, enjoy a day on the beach at L'Ile Verte. Take the ferry from the port and make the short 10 minute crossing to this picture perfect spot. Pack a picnic and admire the breath-taking shoreline from the beach or explore the island and uncover the range of fantastic viewpoints.
Otranto to Santa Maria di Leuca, Italy
The region of Puglia makes up the heel of Italy's boot. The landscape is characterised by rugged hills dotted with whitewashed buildings and crystal clear waters lapping against the sun scorched coastline. The drive itself meanders between the seaside towns of Otranto and Santa Maria di Leuca along a road that has been dubbed the 'Little Amalfi Coast'. With its jagged coastline and secret beaches this stretch of the Puglia region is perfect for exploring by car and without doubt one of the most beautiful drives in Europe.
Otranto is a harbour town and is as gorgeous as it is historic. Before you embark on your scenic drive along the coast be sure to visit its unusual Cathedral. It is well known for the monumental mosaic which covers the entire floor of the Cathedral and dates back to the 12th century. Despite being hundreds of years old the mosaic has stood the test of time and the mythical illustrations which depict man's struggle between good and evil can still be clearly deciphered.
If you get the chance take an evening stroll around Otranto. The town's architecture is particularly impressive at night, especially the castle. Locate the turrets and walls open to the public and make your way to the top for breath taking views of the city. You will likely find yourself struggling to leave this picturesque town. Rest assured there are even better things to come. The drive runs past mile after mile of spectacular ocean views and is one of the most underrated attractions of the area.
The cliffs, grottos, ancients fishing villages and hidden beaches along the way are numerous, offering plenty of opportunity to take breaks, hike, picnic and swim. Don't miss the 'Grotta Zinzulusa' which is famous for its stalagmites and stalactites. Be sure to take the guided tour of this ocean-side cave and hear the fascinating story of the cave's discovery as you swim in the warm clear waters. As the midday heat beats down on the dramatic limestone cliffs of Puglia's coastline, stop for a picnic beneath the shade of the abundant olive groves.
As you approach Gagliano del Capo you'll come across a sea inlet spanned by an impressive bridge. Here you have two choices: descend the stone steps to access the water for a leisurely swim, or join the daring divers as they scale the cliffs and jump from heights of up to 50ft! Whichever you decide, the inlet is an idyllic place to cool off in the afternoon sun.
Leuca is framed by the Regional National Park of the Costa Otranto. Before you reach the town, stop and enjoy the view of the wild flower and shrub covered slopes as they cascade down the rocky hillsides. Round of your scenic tour of the Puglian coastline and climb the headland to the lighthouse. Here you will be greeted by a staggering vista where the Adriatic and Ionian Seas meet. As you relax in the Marina with a gelato or sit down to dinner at one of the delicious restaurants in the old town and reflect on the highlights of the drive, you wouldn't be mistaken for thinking you had found your own piece of paradise.
This article is brought to you by Economy Car Hire – the largest independent car hire broker in the UK.
Photo Credits: Port of Cassis by Vincent Brassine, Cap Canaille by Anse de l'Arene, Otranto harbour by Paolo Margari , Grotta Zinzulusa by Giordano Merenda, Sant'Andrea by Vittori Ferrari
Other Mediterranean Delights
Bonjour Marseille – Day 2 of my MSC Mediterranean Cruise
Palazzo and Gelato in Genoa – Day 3 of my MSC Mediterranean Cruise
Dreaming about the Italian Islands of Sardinia and Sicily
This article is originally published at Heatheronhertravels.com – Read the original article here
You'll also find our sister blog with tips on how to build a successful travel blog at My Blogging Journey
August 7, 2014 by Guest Author
Filed under Beaches and swimming, Eating and drinking, Europe, featured, Guest post, Leisure, Misc, Nature, Sightseeing, Walking
In this article our guest author Nathan Moore takes us to Slovenia, the outdoor adventure capital of Europe, tastes raw squid and swims in the crystal clear waters of Lake Bled. Nathan and Jim are two friends on an epic adventure through Europe in a self built campervan, with the aim of seeing new cultures, having a whole load of fun and raising money for the Teenage cancer trust and Challenge Worldwide.
Slovenia has been dubbed many things over the years; the adult's playground and the adventure capital of the world. It was both mine and my buddies first time in Slovenia and as a great lover of the outdoor adventure I was personally very excited. As soon as we crossed the border in our campervan it was clear to see what all the fuss was about. Landscapes like I had never seen before lay before us. The steep peaks rose up all around us as far as the eye could see, covered in thick green forest with huge pines lining the sides of the roads. When driving in Slovenia there is a onetime toll payment of fifteen euros. It's important that you don't forget as the penalty fines are huge.
An abundance of outdoor activities
After less than half an hour we made it to the Triglav National Park a UNESCO protected area. Home to the turquoise waters of the Soca River. Perfect for kayaking, rafting, hiking, mountain climbing and almost any other adventure sport you can imagine. We spent a couple of hours walking around the park mainly along the river, it was surprisingly quiet for the time of year and we saw no more people than I can count on my fingers and toes. Time permitting we would have spent more time walking and maybe took on some of the more challenging trails, like the ascent of Triglav the largest mountain in the park. Some walkers we stopped for a chat told us the views are spectacular. Unfortunately we were on limited time having to travel down to the capital Ljubljana in just a couple of days. After lunch we made our way to the lake, night had fell by the time we arrived so we setup camp for the night.
Try canyoning for an adventure
In the morning we made our way down to the 3glav adventure centre. We had booked a trip for the morning to go canyoning. They also offer bike trips, tours of the Emerald River, kayaking, hiking, rock climbing, rafting and even sky diving if you're feeling super brave. We had booked on their online site and they even gave us a discount due to our charity aspect. All the staff were very helpful and introduced us to our guide canyoning Bob. With fifteen years' experience he boasted the best resume in town. Canyoning basically involves following the natural path which the water has carved out of the rock on its journey down the mountain and in to the river. It includes abseiling, jumping into the pools and some swimming. It sounds pretty wild, but was lot less dangerous than I expected. Bob was there to talk you through anything and if you didn't want to make the jump he would lower you down. They provide all the equipment and no experience necessary. After navigating down the canyon it's a twenty minute ride on the river back to the van. Floating along on your back taking in the scenery and local wildlife with the rest of your team, Bob leading the way. The highest jump was six metres and neither of us was going to miss the opportunity to throw ourselves of a cliff. It cost around fifty euros each and lasts 2 two to three hours. In our opinion it was worth every penny and more.
Enjoy local cuisine
In the evening we had a challenge to complete set to us by our viewers. For a twenty pound sponsor we had to eat raw squid. Neither of us had been looking forwards to it and rightly so. I won't go in to, too much graphic detail in case any of you have a weak stomach, but the video is on our website if you would like to watch us grimace and gag take a look here. Afterwards we decided it was only fair that we should treat ourselves to some Balkan specialities, and after a quick walk around the lake we settled on a small pub restaurant named Gostilna Pri Planincu just up from the main street. Everything was freshly prepared and overall the food was very tasty.
After a good night's sleep we rose early and swam to the island on the lake and the sun climbed up over the mountains. The water is crystal clear and calm. It was a good five hundred metres to the island. Those who don't want to get their feet wet can hire a boat with driver for around twelve euros per person. There is a church on the island but it was five euros to enter and we didn't have any money with us or the energy to swim back and fetch some. Instead we sat on the steps and soaked up the scenery before heading back a drying off.
Unfortunately our time was up in Bled and we had to get back on the road towards Ljubljana the capital. I could have happily stayed for a lot longer if it were possible, and would certainly go back if the opportunity presents itself. I would only recommend it to those who enjoy the outdoors as it's only a small town and still fairly rural.
Many thanks for this article to Jim and Nathan of jimandnathansbigadventure.com – two friends on an epic adventure through Europe in a self built campervan, with the aim of seeing new cultures, experiencing the unexperienced and having a whole load of fun. As they travel they are raising money for the Teenage cancer trust and Challenge Worldwide – two amazing causes changing the lives of young people.
For more adventures in Eastern Europe:
Visiting the hill-towns of Grožnjan and Motovun in Istria, Croatia
48 Hours in Budapest – video
Lake Ballaton days at Hullám Hostel in Hungary
Photo Credits : All Photo originally from Jim and Nathan.
This article is originally published at Heatheronhertravels.com – Read the original article here
You'll also find our sister blog with tips on how to build a successful travel blog at My Blogging Journey