October 15, 2014 by Guest Author
Filed under Art and design, Eating and drinking, Europe, featured, Guest post, Italy, Leisure, Misc, Museums, Sightseeing, Walking
In this article our guest writer, Francesco Visconti, takes us to Verona for the weekend to find the true Italian heart of the city beyond the story of Rome and Juliet.
Everybody in the world knows Verona as the set for Shakespeare's romance Romeo & Juliet and lovers go there as pilgrims just to see the famous Juliet's balcony. But for an Italian who loves to travel and tries to discover the real soul of place, like me, it's easy to perceive that this city is much more and that its romantic atmosphere came before Juliet's balcony. A few weeks ago I spent a weekend in Verona, with my girlfriend, of course. I had already been here when I was 12 with my family, but only this time I could understand the specialty of Verona, if compared to many other Italian destinations, that foreigners visiting the town for just one day may not see.
We arrived at the train station on Friday afternoon just after lunch. The beginning of the autumn is the perfect time to visit Verona, with less tourists but still good weather and gorgeous colours all around. At this time of the day, when nobody's in the streets, you can really enjoy the peaceful atmosphere on Corso Porta Nuova, the big boulevard that goes from the monumental door of the 16th century Porta Nuova to the centre. At the end of the boulevard we passed under the two arches that give access to Piazza Brà and it was like a jump in history. We left at our back the modern town to get in the old Roman town of Verona, whose symbol is the Arena, the second most known amphitheatre of the Roman age after the Coliseum. The Arena is less tall but larger than its brother in Rome, perfectly preserved and with an incredible acoustic that makes it perfect for concerts and music festivals!
Until 10 years ago the Arena was home of the most popular music festival in Italy, the Festivalbar and the first time I visited Verona it was just during the days of the event. So I couldn't visit it and now I was just too excited to see it from the inside, to walk on the sand and climb the steps until the top to have a look at the rooftops of the surrounding square. In the Coliseum you can hardly touch anything, while in the Arena you are free to go all around the amphitheatre and, instead of thousands tourists struggling for taking a good picture, here we were almost alone and could make fly our imagination to the era of gladiators.
As you can suppose, we spent a good part of the afternoon in Piazza Brà and when we came out of the Arena it was already "Spritz time". The Spritz is a typical drink from Verona and the Veneto region in general that people drink more or less at the same time when English drink tea.
In search of a nice bar, we passed from the Roman to the medieval era, walking through the pedestrian streets inside the walls of the old town. What really hit me is that almost all the area is pedestrian, something that I haven't seen in any other Italian city and that really made me enjoy the walk. We finally found streets full of people going for shopping, for an ice-cream or chilling at the bars with their Spritz.
After our random tour of Friday night, we planned our Saturday to visit the rest of the city. Our first stop was Juliet's house and balcony. We tried to go relatively early in the morning, but no matter what's the time, half of the tourists in town are always pointing to that hypnotic balcony or to the statue of naked Juliet below it. We contributed to the ceremony for a while and then followed the tour into the more enjoyable Piazza delle Erbe. This place has always been the heart of Verona: it is the oldest square of the town and lies upon the ruins of the Forum of the Roman town, it's been setting for the market and today is the heart of nightlife, full of bars and restaurants.
And it's also an incredible collection of monuments and buildings of different eras: the house of the municipality, the Lamberti tower, the painted Mazzanti houses, the fountain with the statue of the holy Mary, the "Tribuna" and the column with the Lyon of St. Mark, symbol of the power of the old Republic of Venice, which ruled upon Verona in the 15th century. All these attractions are amazingly put together, without clashing each other, like in a colourful painting and at first sight, attracted by its elegance, you don't even realize its wealth in culture and history.
We took a while to breathe and continued the tour. We just had to make 20 meters at the back of the House of Municipality to get to another amazing square: Piazza dei Signori, with at its centre the statue of Dante Alighieri. The imposing statue made the Veronese people give the square the name of Piazza Dante. It's another square built in medieval times and surrounded by monumental buildings. The very curious thing is that each of them is linked to the next through arches. In a corner of the square there's maybe the most particular monument of Verona: the "Arche Scaligere", monumental tombs in the open air topped by arches in gothic style. They were considered the most honourable burial for the illustrious lords of the Scaligeri family, who ruled the city in the 14th century.
After a quick glance at the cathedral and the basilica of St Zeno, in the late afternoon, a bit outside the centre, we visited Castelvecchio, literally the old castle. We went there at this time to enjoy then a walk at sunset through the charming Scaligeri bridge, that crosses the river from the castle and then continuing along the river Adige until the Pietra bridge, the only bridge built in Roman times remaining nowadays. If you want to do something romantic in Verona, visit this side of the town under the night-lights!
We dedicated the Sunday to shopping and to try typical food from Veneto region. A foreigner wouldn't appreciate the difference and everything that sounds like Italian food would taste delicious. But for an Italian that eats pasta everyday it was necessary to find a "trattoria" with typical Veronese cuisine!
Many thanks for this article to Francesco Visconti, a 26 years old Italian travel blogger and startupper, author of GaddersBlog and creator of the travel platform Gadders that helps foreign travellers discover the best places in Italy. He's a full-time traveller, having been living abroad in different countries for 4 years, now living in Spain. He loves to know in depth a place and a country and, when home begins getting boring, starts looking for new destinations that stimulate his senses. Follow his Twitter feed and Pinterest or visit him on Google+.
Photo Credits: Photos by Francesco Visconti except Juliet's Balcony by Jeroen Van Luin
For more Italian adventures
Cycling with Wine and apples – on the Wine Road in South Tyrol
Messina and an excursion to Taormina – Day 5 of my MSC Mediterranean Cruise
Three nights to fall in love with the city of Verona
This article is originally published at Heatheronhertravels.com – Read the original article here
You'll also find our sister blog with tips on how to build a successful travel blog at My Blogging Journey
In this article our guest writer Angelina Van Kemenade shares with us some of the places in Rome that her kids love to visit from a vintage chocolate factory to gladiator training at the Colisseum.
Rome is definitely one of my family's favorite holiday destinations, offering a wide selection of sightseeing spots and activities that are surely captivating to both adults and kids.
Spending a holiday with the whole family is one of our favorite bonding activities. Just like me and my husband Patrick, our kids love Rome, not only because of the famous Gladiator movie and the Hercules cartoon television show but also because of the unique splendor and the joy that the city offers. With this article I am going to share with you some of the highlights of Rome that I considered among my kids' favorites. I am pretty sure that your kids and even you as parents will love these marvelous places in Rome.
Said Vintage Chocolate Factory
Because my kids are huge fans of chocolate, they love touring one of the most famous old chocolate factories in the world. Most people, regardless of their age and gender, love chocolate, so I am quite sure that both you and your kids will enjoy visiting the Said Vintage Chocolate Factory. This very interesting place in Rome was founded by Aldo De Mauro around 1923 and was once one of the factories in Rome that produced high quality and world-class chocolate.
The factory's popularity boomed until it was damaged by extensive bombing during the Second World War. These days, Said Vintage Chocolate Factory no longer functions like a typical factory, but rather an impressive chocolate museum. The museum still houses the vintage machinery used in producing chocolate in the past, some of which is still magnificently functioning. Even though the company has ceased its normal chocolate production operation, you can still buy an authentic chocolate recipe or savor that scrumptious old-fashioned chocolate taste from the gift shop at the old factory. Watch the video here.
Rainbow Magic Land
The Rainbow Magic Land is one of the most loved family theme parks in Rome, covering an area of about 16 thousand square meters. What we like most about this theme park is that it is very accessible and can easily be reached from Rome through taking the train and then the shuttle bus. It is located in Valmontone just about 49 kilometers away from the historic center of Rome.
We have visited Rainbow Magic Land more than once but we still feel excited at the thought of visiting the theme park again. With the 35 main attractions and the 10 various shows that the park offers, you will surely look forward for another wonderful experience at the Rainbow Magic Land. Among the most popular shows at the park are stunt shows, the interactive Bombo show, aquatic ballet, various theatre performances and the Winx fairies show. The colorful and ever spectacular firework display also adds to the reasons we love visiting this family centered theme park.
 Giardino Zoologico di Roma
The Giardino Zoologico di Roma, also popularly known for the title Bioparco, is one among the kid-pleaser zoological gardens that you can find in Rome. The animals are trained to interact and be used to humans and are provided with a particular space in the garden where they are given the freedom to live and to move around. More to that, Bioparco also provides a safe shelter for various kinds of endangered species and also a nonviolent home for animals that were once victims of abuse and trafficking.
The Gladiator School and the Colosseum
What is a holiday trip to Rome with kids without a visit to the famous landmark of the Colosseum, known as the most gigantic ancient structure that was ever built during the Roman Empire era. This amphitheater was capable of accommodating up to 50,000 spectators at a time during ancient times. It was a famous site for entertainment and political gatherings in Rome and was also once used as the stage for gladiator fights.
Speaking of gladiator fights, my kids love participating in a simulation gladiator activity and because of this, we do not skip visiting the Gladiator School every time we come to visit. In the Gladiator School, both adults and kids are given the opportunity to play as a real gladiator and activity usually commences with one to two hours of basic training. In the training participants are taught about the basic and pro swordsmanship and fighting techniques that the ancient gladiators had to learn. After the short training is over, there is an activity where participants are given the chance to fight as a real gladiator, to wear an authentic Roman fighter suit and to use a blunted sword.

Many thanks for this article to Angelina Van Kemenade, a 29 year old mother of two, and the owner of romesightseeing.net, a website that shares ideas and valuable information about the famous sightseeing sites and main attractions in Rome. Angelina loves to travel together with her husband Patrick and their kids to their favorite holiday destinations of Rome and Paris.
For more things to see in Rome:
The Rome of childhood memories
The Pantheon – in Rome
Street entertainment in Piazza Navona – in Rome
Photos by Angelina except Said Chocolate Factory by Nancy White, Rainbow Magic Land by Wikimedia Commons, helping out with the animals by Bioparco.it
This article by is originally published at Heatheronhertravels.com – Read the original article here
You'll also find our sister blog with tips on how to build a successful travel blog at My Blogging Journey
September 15, 2014 by Guest Author
Filed under Accommodation, Cambodia, featured, Guest post, Leisure, Misc, Nature, Photography, Sightseeing, Walking, World
In this article our guest writers, Illia and Nastia share their tips for visiting Anghor in Cambodia – while it's a one of those must-see sites with a huge amount to cover in a day or two, we find out whether the heat and high prices were worth it.
Angkor, a UNESCO heritage site, is considered to be a photo paradise. Unbelievable sun rises, ancient ruins and wild rainforest combine to make this place unbearably attractive for any photographer. Of course, we weren't that lucky: while we enjoyed ancient ruins, it was raining, cloudy and gloomy. The temperature was either extremely high (in the middle of the day) or extremely low (early in the morning), so it was pretty hard to choose what to wear. Nevertheless, we managed to take a few of pictures and now want to share them with you.
When you depart early in the morning from Siam Reap, the nearest Cambodian town, it is 6 o'clock in the morning and the only thing you can think about is how much you want to sleep. The wind blows through an open tuk-tuk and it's freezing cold. The price of the entrance tickets – $40! – quickly wakes you up and here you are, awaken and ready to explore ancient Hindu-Buddhist temple complex. Ancient? Hmm, not really. In fact the majority of temples were constructed in the 12th-15th centuries. However, if Lara Croft considered it to be old enough to die for its treasures, we can assume that it's old enough to pay $40 entrance fee.
The Angkorian period began in AD 802, when self-confident Khmer monarch Jayavarman II decided that he was a "god-king" and "universal monarch" and lasted until the late 14th century, when Ayutthaya conquered "god's territories". Khmers didn't like it and organized a rebellion which resulted not in freedom, but in migration of population to Longvek.
The complex includes so many temples that it is physically impossible to visit all of them. Scientists believe that some of them are still hidden in jungles and are impossible to reach both for tourists and explorers. Many temples are built on moors, so it's hard to understand how Khmers managed to access them at all. We took a traditional two-circle tour (small + big circles) and were completely satisfied with the amount of ruins we saw.
Interestingly enough, these ruins were never used for living or praying in them, but were rather considered to be home for gods, accessible only for priests. The great-grandchildren of the architects and constructors believed that the temples were erected by gods. In 1850 Angkor was found by a French priest, owing to whom it became a popular destination for European tourists and researchers.
Nowadays there are so many tourists in Angkor that sometimes it's impossible to take a picture. The situation is worsened by numerous local sellers, trying to persuade you to buy totally unnecessary stuff. In addition to the crowds of tourists there are lots of orphans hanging around in Angkor. At first, it looks strange, but in fact there is nothing surprising about that: there are several orphanages in the temples' neighborhood. Orphans either beg for food and water, or collect plastic bottles, thrown away by tourists, to sell them to recycling companies. Even though the life style of these children is miserable, they don't look unhappy: we saw lots of them playing in the jungles and riding the vines.
To cut a long story short, the visit to Angkor can be described as follows:
Day 1 – Wow! Ancient ruins!!! I must see ALL of them!
Day 2 – Hm, that is interesting collection of stones, I think it differs a little bit from the previous temple.
Day 3 – I am fed up with heat and rocks! I want ice-cream and rest.
That's why we conclude that two days are enough.
In general, visit to Angkor was unusual and quite inspiring experience we highly recommend to everyone visiting South East Asia.
Practical information for visiting Angkor
How to get there: from Cambodian town Siam Reap you can take a tuk-tuk ($7) per day or a bike ($4). Take into consideration that Angkor is pretty big; walking might take too much time.
Cost: $40 for three days
Where to stay: Only in Siam Reap – our budget (but totally fine) hotel cost $6 per night for double room.
Where to eat: Only in Siam Reap. When going to Angkor, take food with you, since it is quite expensive to eat there.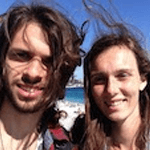 Many thanks for this article to Illia and Nastia who are passionate about each other, traveling around the world and sharing their experiences at crazzzytravel.com, a blog where you can find plenty of budget travel tips as well as practical information about numerous destinations. They have already been to 33 countries on 4 continents and ain't no stopping. Visit their Facebook or Google+ pages and follow them on Twitter.
For more things to see in Southeast Asia:
The highlights of Phnom Penh – Cambodia
Take your hobby on holiday – follow your interests in Vietnam
The Best Places to Snorkel in Thailand
Photo Credit: All photos by crazzzytravel.com
This article is originally published at Heatheronhertravels.com – Read the original article here
You'll also find our sister blog with tips on how to build a successful travel blog at My Blogging Journey