In this guest post, Stefan Arestis of Nomadic Boys takes us on a delicious  journey around his favourite foods in Argentina, from Mate to Malbec and Empanadas to Chimichurri.
Argentina is well known for its many parilla steak houses and for good reason. With more cattle than people, a gathering in Argentina with friends and family, on a Sunday for an asado barbecue, is a meat lover's paradise.
But there's more to Argentina than just consuming your body weight of cow meat. After two months travelling in Buenos Aires and across the country, here are my eight favorite foods of Argentina: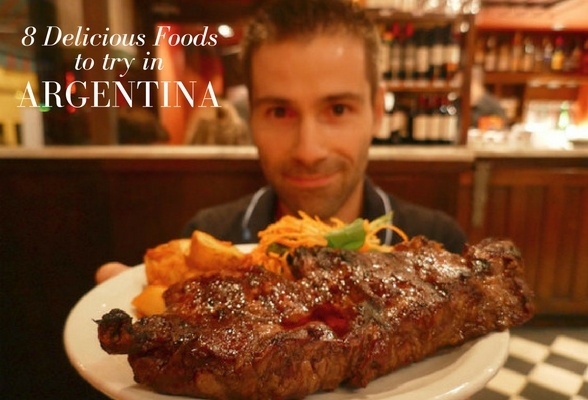 1. Milanesa a la Napolitana
Milanesas are breaded seasoned meat fillets, which are dipped into egg, covered in bread crumbs then fried. They are like Austrian schnitzels but beef is more commonly used instead of pork. Milanesas are a nod to the large Italian influence in Argentina after millions emigrated in the late 1800s and early 1900s.
The milanesa a la napolitana, like the napolitana pizza adds a layer of tomato sauce, mozzarella and ham. It was named after the restaurant Nápoli in Buenos Aires where it was created in the late 1940s and has now become one of the most popular Argentinian foods. When asking our local friends what they miss most from Argentina, they will frequently say they crave a milanesa a la napolitana, washed down of course with the most popular drink…
2. Mate: herbal tea
Mate (pronounced MAHteh) is an institution here. The Argentinians are proud, passionate mate drinkers: it's ingrained in the culture, the focal point in social gatherings, handed around for everyone to share. Whether you're in a business meeting, out in the park with a group of friends or buying a ticket at the bus station, you can be sure to see the iconic flask with pot and metal straw.
Mate is a black herbal tea made from the yerba mate herb, grown in the Northeast Argentinian provinces of Misiones and Corrientes. To prepare the mate, the herb is placed in the mate pot (called a gourd), hot water (not boiling) added and it is then served from a metal straw (called the bombilla).
We visited the touristy Iguazu Falls in Northeast Argentina, which had an hour long queue for the train to take you up to the Devil's Throat. For the Argentinians no problem – whip out the large flask, packet of mate herbs, gourd and bombilla and very soon a mate will be passed round. Completely impractical, very sociable, yet oh so very Argentinian!
3. Dulce de Leche Cookies
Dulce de leche is caramelised milk, used everywhere, particularly in all dessert. This stuff is like the blood of Argentina. One particular dulce de leche dessert are alfajor de maicena cookies. These are 2 vanilla biscuits, which are bound using (lots of) dulce de leche, which is then coated with grated coconut.
Extremely delicious but goodbye abs!
4. Empanadas
Empanadas are a popular snack either to accompany meals or as an appetiser. They are stuffed pastries with a variety of fillings, which are then fried or baked. Empanada comes from the Spanish word empanar.
The most popular filling is confusingly called carne, which means meat, but refers to beef. Other popular fillings include pollo (chicken) jamón (ham) and queso (cheese).
The tastiest empanadas we tried are the spicy empanadas con carne picada North Argentina. The indigenous Quechua influence means that more spices are used in cooking giving them more flavor.
5. Choripán: chorizo hot dog snacks
Choripán is the Argentinian hotdog, served with a chorizo sausage and salad. The name describes its ingredients: chori for the chorizo and pan meaning bread.
Like empanadas, choripáns are finger food, which you're likely to eat as an appetiser at an asado or as a snack at a Boca Juniors football match.
6. Ice Cream
Argentinian ice cream or helado is world famous and another nod to the strong Italian influence in Argentina.
Opinions about where you can try the best helado in Argentina varies with immense volatility. The Porteños will say it's in Buenos Aires, the Rosarians will swear it's in Rosario, the Cordobeses will have you believe it's in Córdoba etc…!
You can be sure an helado in Argentina will blow your mind, and with flavours like dulce de leche or tiramisu, you can't go wrong.
7. Malbec Wine
Argentina developed a world famous wine reputation over the last 20-30 years, primarily as a result of several grapes brought over from France. These grapes didn't grow as well in French vineyards, but the climate in Mendoza meant they instead flourished here, particularly Malbec.
Argentina is one of the few countries we've been to where wine is more popular than the national beer – Quilmes. A few glasses of Malbec nicely complement every steak meal. We tried so many delicious brands that it's hard to pinpoint a particular favorite.
8. Chimichurri
Chimichurri is like the Argentinian pesto. It is a parsley/garlic based sauce, usually used to marinate grilled meats or as a dipping sauce for bread and choripáns.
There is no uniform recipe, but our recipe for Argentinian chimichurri includes finely chopped parsley, minced garlic, olive oil, dried oregano, chilli pepper and vinegar.
In most restaurants in Argentina, you will first be presented with a bread basket, which will come with a variety of dipping sauces, including chimichurri, as well as criolla (tomatoes and raw onions) and provencal (chopped parsley and garlic in oil).
More things to see in South America
Beyond the Galapagos – Ecuador's forgotten treasures
More than Machu Picchu – alternative Inca trails to try in Peru
Finding Paradise in Ilha Grande, Brazil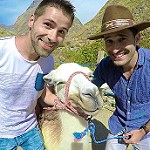 About the Author: Stefan Arestis is one half of The Nomadic Boys, a gay couple with Stefan (Greek) and Sebastien (French) travelling the world on a 2-year adventure which started in Asia in 2014. They are currently on a big trip around Latin America starting south in Buenos Aires and slowly working their way North.
You can also find The Nomadic Boys on Facebook, Instagram and Twitter.
Pin It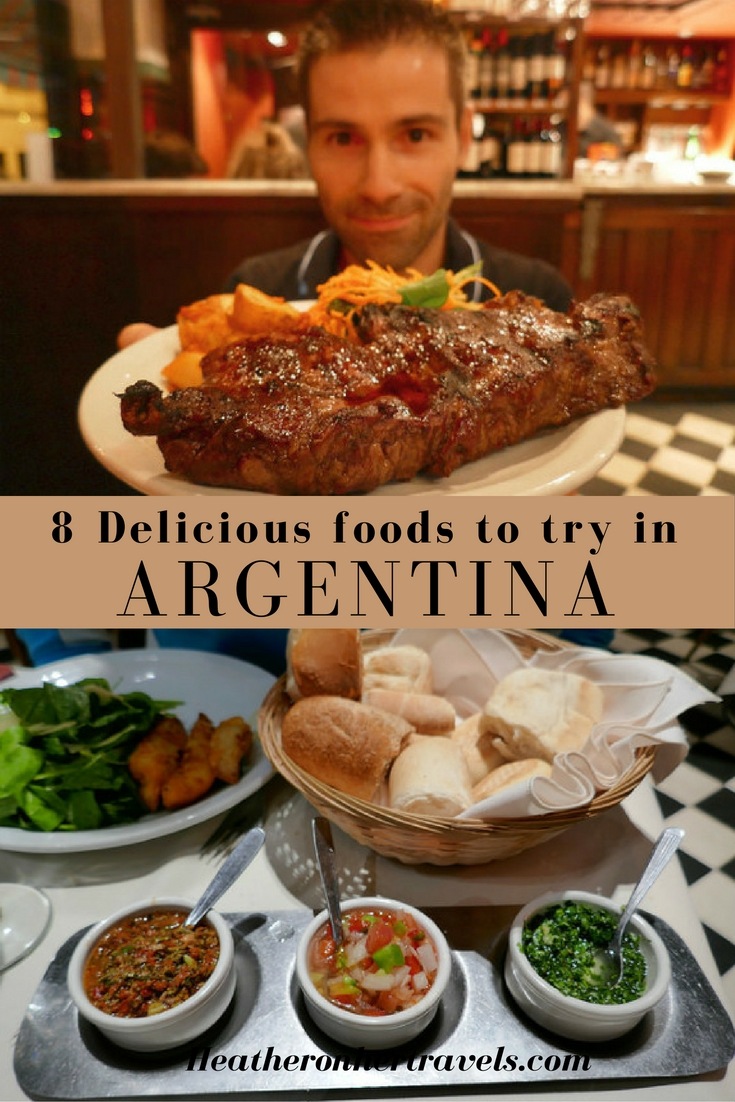 This article is originally published at Heatheronhertravels.com – Read the original article here
Comments Off on Alternative places to visit in Tokyo: a 2 day itinerary
Are you visiting Tokyo but want to try something a bit different? Our guest author Mike Gale lives in Tokyo and has been busy discovering alternative places to visit. He shares a two day itinerary that will allow you to find some more unusual places while having a good time in Tokyo.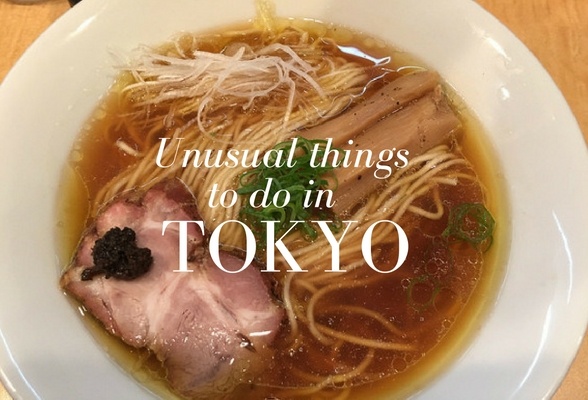 Day 1- Owls, Culture and Delicious Restaurants
Brunch time – If you're looking for a great place to stay while in Tokyo check out some of the recommendations at the end of this article or try our Tokyo hotels booking page powered by HotelsCombined. We recommend the Shinjuku district which is centrally located for getting around Tokyo.
Now it's time to have a leisurely brunch at Bubby's in Roppongi Iichome. Getting there: Take the Marunouchi Line 4 stops then transfer to Yotsuya Station for 3 stops until you reach Roppongiicchome Station. Total trip time is 15 minutes. Once you make it to Roppongi iichome station head to Bubby's nearby where you can find the best brunch in Tokyo. Their pancakes and burgers are absolutely delicious!
Late morning: Next we're heading for the Owl Cafe Fukuro No Mise. Have you ever heard of an owl café? I never did until I spoke to some friends who recommended it to me. Getting there: To get to the owl café you will take the Namboku Line two stops from Roppongiichome station. You will transfer on the Yurakucho Line to Tsukishima Station. The journey takes around 18 minutes.
Visiting Fukuro No Mise:  In this café, you can actually pet owls and have a good coffee. First, you will learn about the owls and how to handle them. You will have time to take pictures with the owls as well and there are small, medium and large ones you can pet and hold! (Timings can be subject to change due to appointments on the day )
Price Range – 2,000 yen per person, Closed on Mondays and Tuesdays. More information here.
As an alternative, visit the Owl Café and Bar Café in Harajuku if going on Monday or Tuesday. You can take the train from Roppongiichome Station to Tameike Station on the Namboku line, transferring at Kokkaogijido-Mae Station.
Afternoon: Head over to JR Harajuku Station to see a cultural area and also try out my restaurant recommendations in the area. Getting there: You will take the Oedo line back to Shinjuku Station then transfer on the Yamanote Line to JR Harajuku Station.
Walk around the Meiji Shrine which is one of Tokyo's most famous shrines. It is dedicated to Emperor Meiji and Empress Shoken. The Shrine was founded in 1920. It is located in a forest that contains 70 hectacres. Pretty impressive in such a crowded city!
Next walk over to Takeshita Street. Although crowded, you will get to see some of Tokyo's famous young street "Harajuku" fashion. Walk around to the different shops, try a crepe and enjoy all of the different fashion styles around.
Late afternoon: Stop for a beer at the Baird Beer Harajuku Taproom. It is on one of the side streets of Takeshita Street and is relatively easy to find. Here, you will find some of the best craft beer Japan has to offer; owner Bryan founded the company in a small southern town of Japan. I recommend trying their beer sampler as you will be able to try three different types of beers for only 1,000 yen. If you are a bit hungry, you can snack on some izakaya food which are Japanese side dishes of fish or vegetables.
Evening:  Time for dinner at Chiles Mexican Grill. You will head over to one of the best Mexican restaurants in Tokyo, which is also in the area of Takeshita Street and easy to find. I recommend trying their chicken ranchero burrito. It is absolutely delicious. The staff at the restaurant speak English as well.
Day 2- Ramen, Art, Shimokitazawa, and Jazz
Early morning: We have an early start today (6am!) –  head over to Sugamo Station on the JR line. Aim to arrive at Tsuta Restaurant by 7am. More information here.
Your goal is to arrive here to get a coveted ticket to this ramen restaurant. Get a ticket for 1PM to give you enough time in the onseon. Here, you will get a chance to try some delicious ramen. How delicious? Tsuta Restaurant was given a Michelin Star two years in a row! I got a chance to try the black truffle ramen and it was absolutely delicious.
Morning:  Visit Tokyo Somei Onsen Sakura, a traditional Japanese style spa. Make sure you have clean clothes and a towel. They charge extra for towels. You must not have any tattoos or you won't be allowed in. Getting there: You will head back to the JR Station and go clockwise on the Yamanote line to Komagome JR Station.
Alternative spa if you have a tattoo: Head over to Akihabara. You can take the JR train clockwise from Sugamo Station and counterclockwise back it will take about 16 minutes to get there. This is one of Tokyo's famous otaku (anime) neighborhoods. I recommend visiting any of the maid cafes around the station. Also, you can walk around and see the weapons store, which will showcase a katakana up close.
Lunchtime: Head back to Tsuta Restaurant (Take the JR line to Sugamo Station) with your ticket to enjoy the delicious ramen. You won't be disappointed.
Afternoon: Ueno Park and art galleries – Stop over to Ueno Station on the JR line (11minutes) to check out the famous park as well as the art galleries. Check out the famous park first then the Tokyo National Museum. It is one of the largest art museums in the world!
Late afternoon: We're exploring Shimokitazawa, one of the Bohemian neighborhood of Tokyo where you will find many interesting boutique shops and restaurants. Getting there:  Take the JR line counterclockwise to Shinjuku Station then transfer to the Odakyu Express train to Shimokitazwa. The journey will take about 39 minutes.
For the best curry in Tokyo, I recommend going to Anjali Spices. The owner is from Osaka and puts pride into his cooking. He also spent time in India so you will expect to have authentic Indian style cooking.
Evening: A drink at Pit Inn. After you finish walking and eating in Shimokitazawa, I recommend one last stop in Shinjuku at the Pit Inn which has been open for 40 years. Take the Odakyu Line to Shinjuku, which is a good area to stay. This Jazz Bar has many local and international artists and is known to have some of Tokyo's best jazz music. As it is a smaller venue, lounging may not be the best option but the sound system is incredible. The shows typically start at 8PM and cover charge is 3,000 yen which includes one drink. Check the website before going because some shows can start at 7:30PM.
We hope you've enjoyed your discovery of Tokyo's alternative side, mixing up cool cafe's, delicious food and nightlife with a bit of authentic Japanese culture.
Need somewhere to stay?
Try these hotel choices in the easily accessible Shinjuku district;
Granbell Hotel Shinjuku: This boutique hotel has a clean and modern look and is centrally located in Shinjuku which will make Tokyo more accessible. The lobby has coffee available and a good view from the roof terrace.
Hotel Rose Garden Shinjuku: This is a family owned boutique hotel with friendly staff and clean rooms. It is located closely to the train station.
Hotel Mystays Asakusa-bashi A modern 3 star hotel close to the station.
About the author: Mike Gale writes at NomadLifestyle, a Tokyo based food and travel blog. His aim is to find delicious food in Tokyo and document his foodie and travel adventures around the globe.
More things to do in Tokyo
Cool Hunting in Tokyo: food, fashion, street-style
10 offbeat experiences in Tokyo
Pin It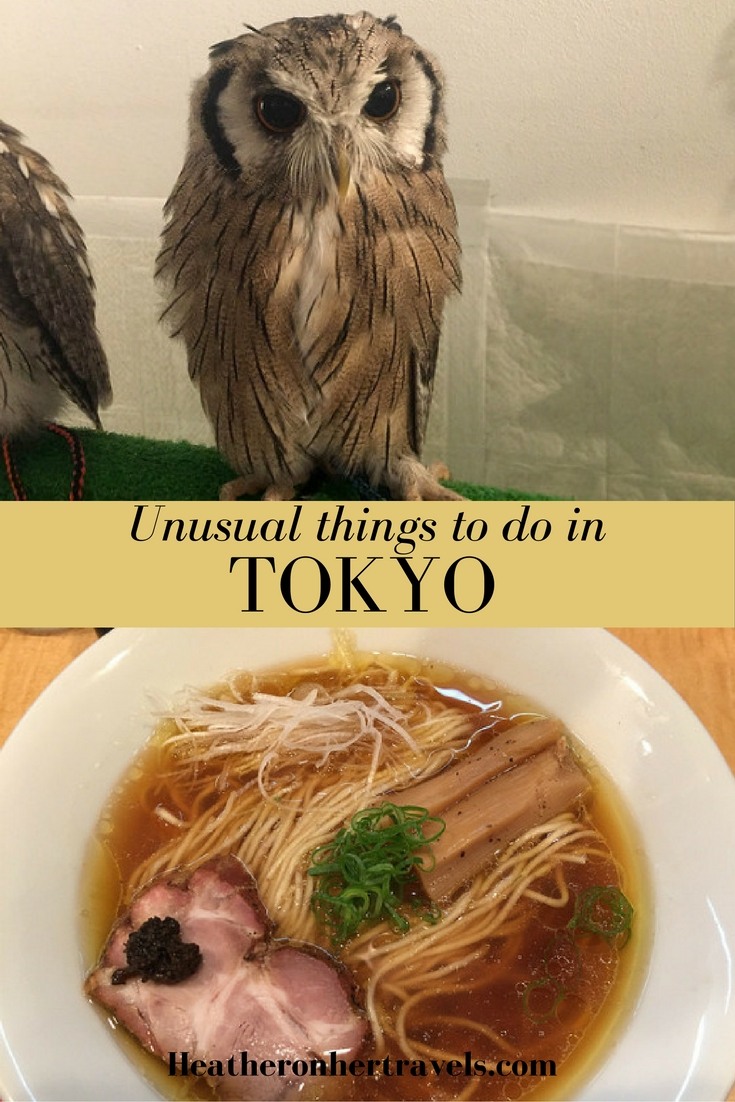 This article is originally published at Heatheronhertravels.com – Read the original article here
Braga is located in the North of Portugal and its history and charms won't leave you unmoved. In this article our guest author and Braga expert, Julia Vilaça picks out five of the most iconic things to do in the city.
Visit Bom Jesus
Bom Jesus is one of the most versatile places in Braga. The view from the top is mesmerizing, the environment is calm, quiet, romantic and family-friendly and there are lots of things you can do besides visiting the impressive and beautiful church. There are gardens and grottos, a lake with rowing boats, a relaxed terrace and carriages to enable you to discover the area. For a unique experience, use the water powered elevator to reach the area where the church is located.
In Bom Jesus there are options for everyone. The Hotel do Parque is always a good choice to stay and if you like cocktails, you must go to Casa Velha, a bar that takes the art of creating these kinds of drinks very seriously, providing you with a unique experience in a rustic space.
Visit Braga's Cathedral
This is the oldest church in the country and its first construction project began even before Portugal became a nation. It's possible to observe the influences of various eras on its walls and predominately Baroque interior. This is a symbol of the city and it is a mark in the lives of the people who live in Braga, thanks to its beauty and historical importance. Next door, there are some small chapels and a museum where you can learn more about the Church, the Portuguese habits and history – one of the pieces you can see in the museum is the cross used during the first mass celebrated in Brazil when the Portuguese arrived there.
Take a cup of coffee in A Brasileira
A Brasileira is the most iconic place when it comes to coffee. After lunch, order the drip brewed coffee and experience the traditional flavor of coffee. This iconic coffee shop is located in the heart of the city, so afterwards you can take a walk around the city's pedestrian area, discovering the streets of Braga, its most delicate gardens and historical buildings. Shop for souvenirs or for a special piece for your wardrobe – if you're a fan of international luxury brands, stop by Antónia Lage and Boutique Janes where you'll find the latest collections from Miu Miu, Prada, Chiara Ferragni, Moschino).
Visit the Biscaínhos Museum
The Biscaínhos Museum opened its doors in 1978 and currently takes us on a journey through the daily life of a noble family in their palace. Visit the gardens – the perfect setting to read a book or go for a romantic walk. Inside you'll see the noble ballroom where the family used to hold their receptions and balls and a fantastic ceiling painted by Manuel Furtado. This is the perfect Museum to visit if you want to see how a noble family used to live.
Visit the Tibães Monastery
The Tibães Monastery is more than just a visit to an old monastery, it's a visit to the past, a visit to the present, and a desire to return there in the future. It's located a bit far from the center of Braga, but worth the visit. The gardens are an ode to Mother Nature, there's even a lake lined with centenary trees and the Rococo style church will blow your mind, thanks to the 24K gold covering most of it. And you know what? This Monastery also includes a guest house, Hospedaria Convento de Tibaes, with nine bedrooms, a restaurant and a venue for special events. Perfect, right?
Author Bio: Thanks for this article to Julia Vilaça who writes at Braga Cool and is an avid collector of happy moments. Her dream is to help people discover the coolest places when they travel.
More articles about Portugal
5 cool neighbourhoods you can't miss in Lisbon
3 great places to visit in Portugal
An autumn weekend in Lisbon
If you're looking to book a Hotel in Braga, compare prices and book on my Hotel Booking page powered by HotelsCombined – I get a small commission at no extra cost to you. Thanks for your support!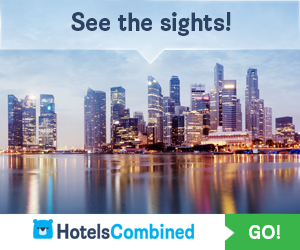 Pin It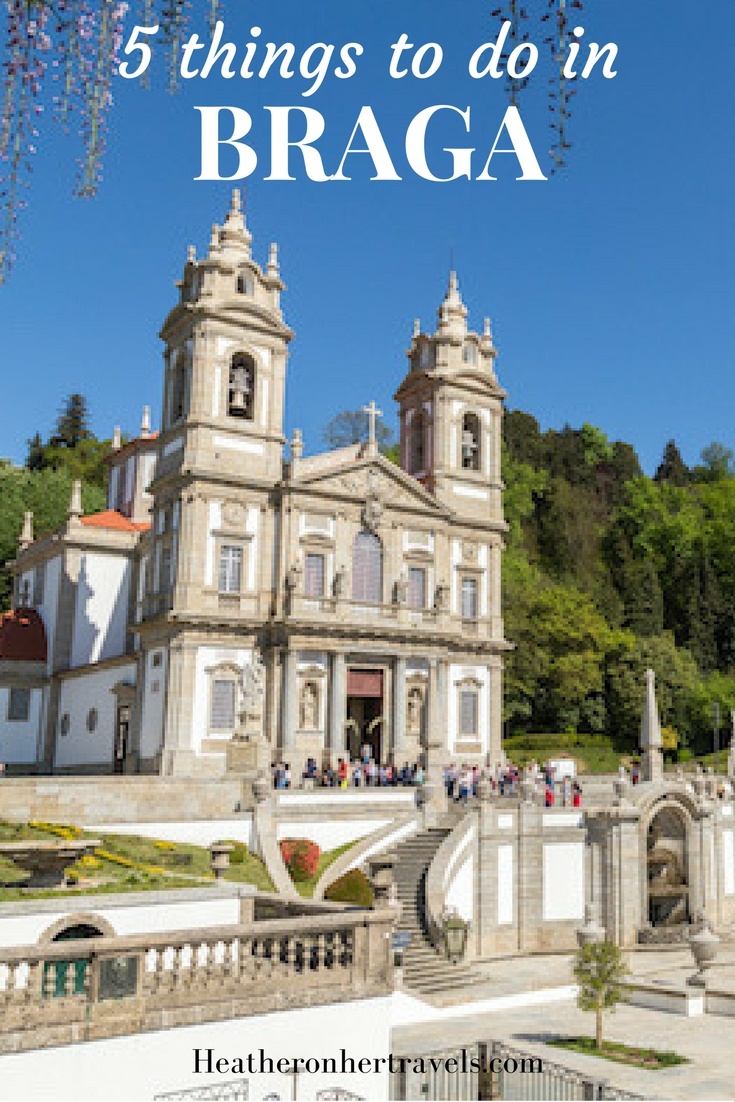 This article is originally published at Heatheronhertravels.com – Read the original article here
You'll also find our sister blog with tips on how to build a successful travel blog at My Blogging Journey