Repeatedly named as one of the most livable countries on the planet, Canada has much to attract visitors year after year. Whether your idea of the perfect holiday involves mountains and glaciers, cosmopolitan cities, wildlife experiences, quaint towns, secluded lakes and forests, iconic natural beauty, stunning views or historic landmarks, Canada has something for everyone.
If you're looking for the next destination to visit, read on for some of the many reasons why Canada should be at the top of your travel bucket list.
The Northern Lights
One of the most amazing phenomena in the world to see first-hand is the dazzling Northern Lights. The spectacular Aurora Borealis, above the magnetic pole of the northern hemisphere, is actually created by collisions between electrically-charged particles from the sun that enter the earth's atmosphere and mix with gaseous particles.
The light displays appear in a variety of colors, with the most common being pale green and pink. The variations in hue are due to the type of gas particles that are colliding — for example, the common yellowish-green color is produced by oxygen molecules that are around 60 miles above Earth. In Canada's Yukon region, as well as the Northwest Territories, travellers are bound to see the fascinating spectacle on visits between the months of December and April. In fact, in the Northwest Territories, the dancing lightshow is reported to occur on around 240 nights each year.
The Rocky Mountaineer
One of the best options for rail travel in the world would have to be the well-regarded Rocky Mountaineer. This train runs numerous journeys through beautiful Canadian scenery such as pine forests, glacier-fed lakes, towering snow-topped mountains, rushing waterfalls and narrow bridges running over gorges. To help passengers really take in the glory of the landscape, the Rocky Mountaineer trains feature glass windows on both sides and above in each carriage.
The wide open views are further enhanced by the regular commentary on board the train, plus the top-quality meals that are served. Along the way, passengers have the chance to spot grizzly bears and moose, as well as highlights like the UNESCO World Heritage-listed sites of Banff and Jasper, beautiful Lake Louise and Whistler, the home of the 2010 Olympic and Paralympic Winter Games.
Polar Bears
The best time to see the majestic polar bears in Canada is between November or March. Encounters with these curious creatures are extremely rare, but in the region of Hudson Bay, near Churchill in Manitoba, it's possible to catch sight of the great white beasts.
The world's highest concentration of increasingly-rare polar bear dens is actually found in Hudson Bay, making Canada one of the prime countries to witness the beautiful creatures. Tours depart from Churchill and are conducted from tundra buggy vehicles that are designed to provide tourists with safe viewing access to the massive animals. The best time of year to book tickets from discount travel sites like Flights.com, is at the end of the year, when you have the chance to see cubs with their mothers.
Quebec City
One of the prettiest cities in Canada that tourists should explore is the predominantly French-style Quebec City, in Quebec. Here, French is the main language (although many people do speak English as well), and you'll feel transported to Europe in a flash. Some of the city's streets, in particular ones such as the Rue du Petit Champlain, seem very Parisian, or sometimes like a rural French village. The streets are full of pretty-as-a-picture flower boxes, cast-iron lanterns, and painted signs hanging from quaint building eaves. Don't miss a visit to the spectacular Chateau Frontenac while in Quebec City. This iconic building is also a hotel, so provides a wonderfully historic location for an overnight stay.
Prince Edward Island
Another must-see destination in Canada is Prince Edward Island. This Eastern region of the country is most famous for providing the setting for the "Anne of Green Gables" books, but the area is also a top spot to enjoy art, jazz, and other music festivals, plus mountains of fresh seafood like oysters and lobster. In addition, no trip to P.E.I., as it is known locally, is complete without checking out the 27 vintage lighthouses that are scattered around the island's coastline.
This article is brought to you in partnership with Flights.com who can help you find last minute flight options, or cheap flights to and from the world's top destinations.
Photo Credit: Polar bears by Travel Manitoba, Northern Lights over mountain and lake by SurangaSL, Polar bear with her cubs by outdoorsman, Covehead Lighthouse in Stanhope, Prince Edward Island by Natalia Bratslavsky
For more info on Canadian travel:
Adventurous Canada with a Twist
Skyscrapers and snow-capped mountains – a winter break in Vancouver
Calgary's family spirit for fun with the kids
This article is originally published at Heatheronhertravels.com – Read the original article here
You'll also find our sister blog with tips on how to build a successful travel blog at My Blogging Journey
January 6, 2015 by Guest Author
Filed under Art and design, Eating and drinking, Europe, featured, Guest post, Italy, Leisure, Misc, Museums, Shopping, Sightseeing, Walking
Milan, Italy's second city, is a complex paradox, the capital of Italian commerce, industry, finance and fashion (its design and fashion shows are actually big business trade fairs) yet for the cognoscenti it offers easily discovered cultural and epicurean treasures.
Perhaps this constant eye toward commerce is what makes the city, as a tourist destination, a little understated, a little too northern European with high-rise towers and banks that outnumber the churches. Yet when you walk the city's streets, immersing yourself into a culture that is firmly rooted in fashion, art, opera and delicate aperitivos eaten al fresco atop cobbled streets, you come to realise that Milan is much more than the sum of its sometimes shallow parts.
The city hosts a little bit of something for every type of person – not just world-class shopping but a well-wired and vibrant cultural scene too. The undeniably creative atmosphere is a pleasure to explore and when you do, you'll note that Milan has more history than the shiny skyscrapers, grimy backstreets and freshly manicured nails of its denizens tend to remember.
Fashion in the Rectangle of Gold
If it's fashion that you want then point your Louboutin's towards the Quadrilatero d'Oro – otherwise known as the Rectangle of Gold, to explore everything from Dior to Versace and all the usual suspects all within easy walking distance of each other. Be sure to take a well-heeled walk around the Gallerie Vittorio Emanuele II, which amongst other things is one of the oldest shopping malls in the world – with Prada's flagship store now celebrating its 101st year there. Bargain hunters should take a look around the area for the outlets that stock floors of past seasons bargains. However if your tastes are slightly more avant garde then take a walk to Via P. Paoli 1, where you'll find the Antonioli concept store – a unique space where you can shop contemporary designers such as Ann Demeulemeester, Rick Owens and Yohji Yamamoto in a beautifully designed store.
The shows in spring and summer are, to many, the highlight of the fashion calendar, with starlets from all corners of the world, heading to the Palazzo Reale or the Palazzo Serbelloni, to get a first look at the designs of the elites of Italian fashion such as Dolce & Gabbana, Marni and Moschino. If you don't have an invite to a show then there are still plenty of opportunities to strut your stuff – whether outside the venues (prepare for the street-style paparazzi) or in one of the city's trendy bars.
Culture in Milan
To some it's surprising that this sometimes-grey city is where Leonardo da Vinci found the perfect setting to exercise his brilliance. You could spend days here retracing his footsteps – from the Sforza Castle with his painted Mulberry tree frescoes, to the various exhibits of both his work in art and science in the city's museums. Best known is the breathtaking Last Supper fresco, which hides on a refectory wall behind the antique façade of the UNESCO listed Santa Maria delle Grazie church.
Aesthetes should dedicate time to the astounding gothic beauty of the Duomo. Its size is staggering, a construct which took 5 years to complete – it is the largest cathedral in Italy. Inside the looming façade, the numerous works of art and icons on offer create a brooding atmosphere – the most striking of which is the statue of Saint Bartholomew Flayed, by Marco d'Agrate.
The saint stands, muscle and tissue exposed, holding a book, his flayed skin thrown over his shoulder like a robe. Those with a love of opera should make reservations to the Teatro Alla Scala, though any one with even a passing interest in the arts and architecture should make an effort to see the impressive stage, which first raised its curtains in 1778. Art lovers shouldn't miss Tiepolo's frescoes at the Palazzo Clerici or the works of art concealed within the Pinacoteca di Brera.
Milanese Cuisine
It goes without saying that Italy is well known for its food – but Milan often, rather unfairly, slips under the radar. Let's make it simple. When in Milan – sate your hunger with local cheeses, butters and milks – note that rice is more popular than pasta in many circles, it does absorb the creams and cheeses that bit better – and try local greats like gorgonzola, polenta topped with mushrooms and of course the famous Panettone cake – originally from Milan and generally reserved for Christmas in these parts.
Now let's set the scene: Milan, 6pm, the bars and restaurants of the city are filled with locals and tourists alike for Aperitivo hour. Where do you go? For the classic experience I'd suggest the haute bars around the Piazzo Duomo, especially Zucca in the Galleria, which is where the likes of Giuseppe Verdi and Arturo Toscanini would dine after performances at La Scala next door – the historical ambience, and the view of the Duomo completes the authenticity. For those in need of a slightly more stylish setting then try Brera district, or, for something a little more elaborate, try the Navigli district, where the da Vinci designed canals wind along the narrow streets. Try one of the houseboats docked in the canals, where Aperitivo is often accompanied by live music.
But what is Aperitivo you ask? Aperitivo is a well-established northern Italian culinary tradition, and Milan (from the 1920's anyway) is the capital of it. It's about drinks and food. A harmony of flavours propelled to sainthood, through offers of after work relaxation and the pleasure of conversation paired with great, though simple food. Try a spritz or a Negroni sbagliato (a delicious mix of prosecco, red vermouth and Aperol instead of gin) paired with a smorgasbord of olives, nuts, bruschetta, cheeses and other stuzzichini (finger food).
Drinks cost anywhere from 7 to 15 euros and come with either a table mix of the above or, in some cases, all you can eat buffets – perhaps the last thing you would expect, when all around you, the Milanese strut in precision heels, pristinely turned out with perfectly pinched waistlines.
Take a few days to experience what the city has to offer – stay away, if you can, from the bustling Milano Centrale Station area, and instead stick to the Piazzas where you can sit in the company of history and simply watch the (Milanese) world go by, sipping your espresso, nibbling on a biscotti and absorbing the very special magic of Milan.
About the author: David Jacobs is a travel writer and editor of Euro Travel Magazine – an online publication which focuses on the whole of Europe, from the mysterious Orkneys to the wine dark seas of the Aegean.
Photo Credits: Shopping in Milan – Mike and Annabel Beales on Flickr, Castello Sforzesco, Milan – Mike and Annabel Beales on Flickr, Rooftop of Milan cathedral – Stefan Karpiniec, Saint Bartholomew – Antonio Trogu, Milan at night – Alex LA, Milan station – Richard Evea
For more tips on travel in Italy:
Törggellen time in South Tyrol – a feast of autumn
Naples and an excursion to Pompeii
Bandits and Murals at Orgosolo in Sardinia
This article by is originally published at Heatheronhertravels.com – Read the original article here
You'll also find our sister blog with tips on how to build a successful travel blog at My Blogging Journey
December 8, 2014 by Guest Author
Filed under Eating and drinking, Europe, featured, Gardens, Guest post, Leisure, Misc, Museums, Nature, Shopping, Sightseeing, Walking
If you are visiting Tallinn for a short time or perhaps as part of a cruise excursion, you'll want to use your limited time to make the most of the wonderful attractions available in Tallinn. This guide from our guest author, Brian Schweitzer will give a rundown of the best way to see Tallinn to make the most of your precious time.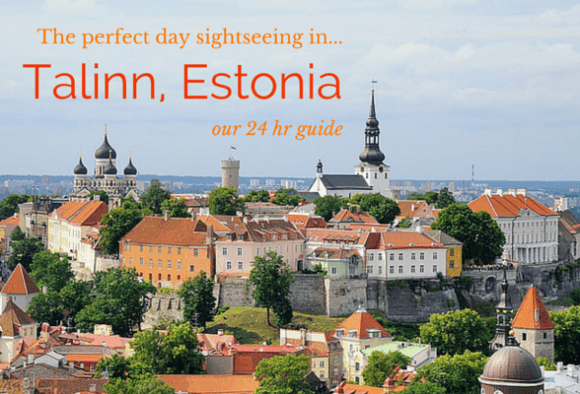 What to See in Tallinn
Old Town – This is the best place to start  your day in Tallinn as there are many different attractions located inside Old Town. Tallinn's Old Town belongs to UNESCO's World Heritage list since 1997 and is a medieval fantasy land that will take you back in time to the 11th – 15th century.
Town Hall Square – Also called Raekoja plats, the Town Hall Square has been in existence since 1322. The square is famous for an open air market for souvenirs and the Christmas tree display, which is over 570 years old. This is a great place to buy traditional Estonian souvenirs.
Town Hall Pharmacy – Also called Raeapteek, it is one of the oldest pharmacies in Europe and has been in operation since the 15th century. The strange array of medicines available throughout history includes mummy juice, unicorn horn powder, bat powder, and hedgehog powder. Inside there is a museum displaying medieval medical instruments and chemist tools. This is another place to buy interesting souvenirs.
Toompea Hill & Castle – The Estonian parliament is located here and the hill offers visitors several viewing platforms for taking amazing photos with Tallinn in the background. This was one of the first inhabited areas that is now known as Tallinn and the natural hill offered a stronghold that would be used throughout the history of the city.
St Mary's Church – Located on Toompea Hill, the church is also known as Dome Church and is the oldest church in Estonia. The original wood church was built in 1219 and numerous famous people throughout history have been buried here. It was originally a Roman Catholic Church but in 1561 it became a Lutheran Church.
Kiek in de Kök & Bastion Tunnels – Kiek in de Kök was the Baltic's most powerful cannon tower defense and construction lasted from 1475 to 1483. The name literally means "peek into the kitchen" as the guards could actually peer into the kitchens of the houses below. After viewing the tower defense you can head underground into Bastion Tunnels. Construction started in the 1630's and with a purpose to secretly flank any enemy trying to take the city. These secret underground passages helped guard the city during the time of Swedish rule.
St Nicholas' Church – This church was dedicated to St Nicholas, the saint of sailors and fishermen. Inside the church is a branch of the Art Museum of Estonia which focuses on medieval artwork. The church is also used as a concert hall because of the excellent acoustics inside.
Town Wall – Also known as the Margaret Wall, it was ordered to be constructed by Queen Margaret Sambiria in 1265. Walking along the walls visitors will have another great chance for memorable photos.
Alexander Nevsky Cathedral – This is a beautiful Orthodox church built in Russia style between 1894 and 1900. It is Tallinn's largest orthodox cupola cathedral and was dedicated to Saint Alexander Nevsky, who was the prince of medieval Rus.
Kadriorg Park & Palace – After leaving Old Town, head out to Kadriorg Park on the outskirts of Tallinn, Kadriorg Park and Kadriorg Palace was founded in the beginning of the 18th by the order of Peter the Great of Russia. The park is a great place to walk in the fresh air and includes several interesting buildings including the Presidential Palace, Kadriorg art Museum, KUMU (one of the largest art museums in the Baltics), and the Peter the Great museum. Kadriorg Park also includes Kadriorg Palace, which was built in baroque style by Peter the Great for Catherine I in 1718.
Where to Eat in Tallinn
No day in Tallinn is complete without a medieval feast. Old Hansa restaurant in Old Town offers traditional medieval Estonian cuisine that makes you feel that you have gone back to medieval times. The atmosphere, attendants, music, and menu are all meticulously created to showcase the "Golden Age of Tallinn."
Souvenirs to Buy in Tallinn
Take something home to remember your Tallinn shore excursion with these recommended souvenirs:
Vana Tallinn – Based on a traditional Estonian recipe this liquor is based on Jamaican rum and includes natural spices including citrus oil, vanilla, and cinnamon.
Juniper – Kitchen items crafted from juniper trees can be found inside the Church of the Holy Spirit and around Old Town. When cooking they emit a sweet, aromatic smell.
Kalev Chocolate – This is the largest chocolate maker in Estonia and includes a large variety of chocolates including some stranger variants such as white chocolate with blueberries.
Wool Clothing – The traditional choice of clothing in medieval Estonia, you will find wool clothing available throughout Old Town with a large selection of items from socks, sweaters, and hats.
About the author: Brian Schweitzer is a travel writer for Travel Guru – A smart travel community dedicated to connecting travelers and saving them time and money on their travels.
For more European adventures:
Cycling by the sea in Istria – in Croatia
Culture and clubbing – my 18 year old daughter hits the town in Budapest
Thermal springs and rubber rings at Hévíz – in Hungary
This article is originally published at Heatheronhertravels.com – Read the original article here
You'll also find our sister blog with tips on how to build a successful travel blog at My Blogging Journey