Discover Russia as a destination for art and literature lovers as  Audley Travel country specialist Nick shares some of his cultural highlights from his travels to Moscow, St Petersburg and the Golden Ring.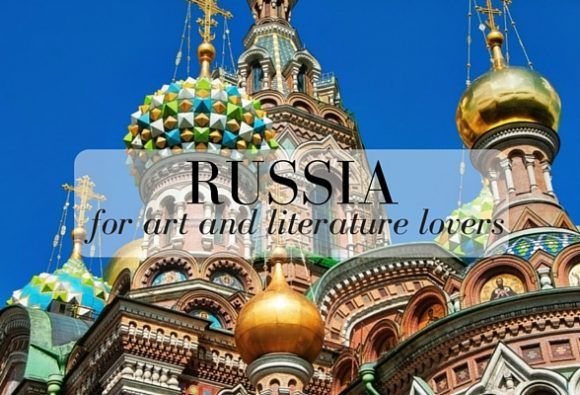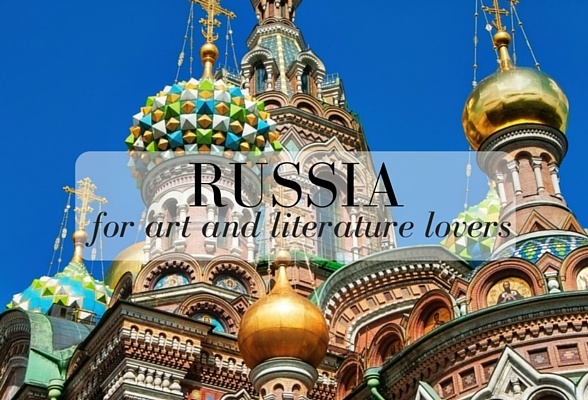 This year is the official UK-Russia Year of Language and Literature – and with the recent BBC adaptation of War and Peace bringing Tolstoy's famous novel to life, it's a great time to visit Russia.
Although reading Tolstoy's words on the page or watching his stories on TV from the comfort of your sofa may seem vivid, nothing compares to experiencing the real-life settings, or seeing the places that inspired and influenced him.
Russia has undergone extreme political and social change over the past few centuries, and the highlight of any trip is the chance to witness this complex history at first hand. One of the other reasons I love Russia is that it has always publicly celebrated and upheld its rich artistic and literary heritage.
For example, on the streets of St Petersburg and Moscow you'll see a lot of publicity for performances of Chekhov. He's perhaps the best-known Russian playwright outside the motherland, but it shows that works such as Uncle Vanya and The Cherry Orchard are still popular.
The Bolshoi and Mariinsky ballet corps are feted around the world but still enjoy great acclaim among native audiences (and if you can't catch a performance on your visit, I'd recommend taking a backstage tour of the Bolshoi or Mariinsky theatres).
Russia is also home to some world-renowned collections of art, notably in the Hermitage in St Petersburg.
Discover the collections of the Hermitage in St Petersburg
While Moscow is Russia's political and economic fulcrum, St Petersburg is seen as the capital of culture, built by Peter the Great in the style of European cities such as Venice and Amsterdam.
To get the best views of the city and a sense of its layout, my advice is to climb to the top of St Isaac's Cathedral on a clear day, or visit the Bellevue Brasserie at the Kempinski Hotel for a panoramic perspective that includes St Isaac's itself.
Having said that, one of the best ways to see St Petersburg's many churches, cathedrals, and imposing baroque and neoclassical architecture is from the water on one of the boats that skim the city's 33 canals.
Art enthusiasts will enjoy the Hermitage, one of the world's largest collections of fine art. The museum is housed in the Winter Palace, a former residence of the tsars situated in the heart of St Petersburg.
You may have spotted its distinctive mint-green and gold façade in the BBC's recent adaptation of War and Peace. Pause as you climb the grandiose staircase – there's no better moment to appreciate the opulence of imperial Russia.
I recommend telling your guide which historical period interests you, or asking for his or her personal preferences, as you won't be able to cover the whole collection. It's said that if you were to spend one minute in front of every piece on display in the whole of the Hermitage, it would take an entire year.
I loved studying original paintings by Rembrandt and Da Vinci, but if your tastes are more modern, head to the part of the Hermitage called the General Staff Building which houses Impressionist and Postmodern collections, including several works by Monet, Van Gogh and Picasso.
I was struck by the haunting black and white photos on display in many of the Hermitage's galleries. They show the bare walls and empty rooms of the building during the Nazi invasion, when many pieces were sent to Siberia to be saved from possible destruction.
Trace the footsteps of Dostoevsky and other famous Russian writers
St Petersburg wears its literary legacy with pride: if you look carefully at the buildings (and can read a little Russian) you'll see they are peppered with monuments and plaques to Russian poets and novelists.
Many writers' homes have been made into state museums. One of the most intriguing is Lolita author Nabokov's apartment, which offers a glimpse of the communal living style of the Soviet period.
The apartment of poet Alexander Pushkin is close to Palace Square and the Hermitage, and easy to visit en route. It's no exaggeration to say that Russians venerate Pushkin and he's deeply etched onto the nation's hearts. On my last visit to St Petersburg, my guide Galina spontaneously launched into a recital of one of his poems as we walked the gardens of the Summer Palace.
Fyodor Dostoevsky's memorabilia-crammed apartment in St Petersburg's Vladimirsky district has been preserved in exactly the same condition as it was on the day he died, slumped over his writing desk mid-composition (the apartment's clock remains frozen at the hour of his death).
Venturing beyond the apartment, it's possible to retrace his and his characters' footsteps around the city, from the Peter and Paul Fortress where Dostoevsky was incarcerated and almost executed to St Vladimir's Cathedral where he would pray.
I like simply tramping the busy intersections and streets around Catherine Canal and Sennaya Square. This is where the action of The Idiot and Crime and Punishment takes place, and where the latter novel's protagonist, Raskolnikov, famously battles his tortured conscience.
The city's main thoroughfare, Nevsky Prospekt, was even the subject of a short story by Nikolai Gogol, in which he described the mercurial nature of the street at night.
Dedicated bibliophiles can browse the shelves of the city's most famous bookshop, Dom Knigi, which occupies an Art Nouveau building on Nevsky Prospekt. Then continue in the footsteps of St Petersburg's writers by stopping for coffee at Pushkin and Dostoevsky's former haunt, the Literary Café.
Relive War and Peace in Catherine's Palace
I remember the first time I walked into Catherine's Palace, the summer residence of Catherine the Great, which is located just outside St Petersburg in Tsarskoye Selo (renamed under communist rule as 'Pushkin Village').
I stood in the centre of the vast ballroom encased in gold and mirrors, and at that moment it really did feel like I was stepping into the shoes of a character from War and Peace: Catherine's Palace was, after all, the real-life setting of the Tsar's ball in the novel.
The mosaics that encrust the walls of the Amber Room (not the originals, which were allegedly lost during the German occupation) are a reminder of the wealth and grandeur of 19th century Russian aristocrats. It's a gilded world that Tolstoy portrays so acutely in War and Peace and Anna Karenina.
See Fabergé eggs in the Kremlin's Armoury and Russian sacred art
Moving from St Petersburg to Moscow, there's no better place to start than in Red Square (the name has no connection to the red bricks that were once whitewashed, nor to the red of the communist regime).
It's a fascinating yet sobering place: as you stand outside the Kremlin and look towards the bright onion-shaped domes of St Basil's Cathedral, you can't help but reflect how this very square has witnessed some dramatic political upheavals.
The Kremlin complex is extensive, but the most striking objects d'art are in the Armoury – intricately decorated and sometimes jewelled Fabergé eggs that the tsar and tsarina would exchange at Easter, along with many other artefacts, such as a coronation gown worn by Catherine the Great.
The Tretyakov Gallery is excellent for seeing how Russian art has developed over time, and for the chance to study some of the most important pre-revolutionary sacred art in Russia.
The highlight of the collection is the Holy Trinity by Andrei Rublyov – an icon (a sacred painting on wood that often features as part of a screen in Orthodox churches) that was considered so glorious its creator was effectively beatified.
Travel on the metro… and quote Shakespeare
Moscow's underground metro acts as a time machine, transporting you not only to your destination but back to the USSR. Many of the stations are home to original Soviet statues, monuments and mosaics – in fact, the first time I ever took the metro in Moscow I ended up intentionally missing my stop just so I could spend more time going round and gaping at the decor of each station.
I especially like the Prospekt Mira Station for its lavish floral designs that are meant to evoke the Botanical Gardens of Moscow State University. The recently opened Dostoyekskaya Station is worth viewing for its murals depicting passages from Dostoevsky's novels (including a murder scene that invited some controversy when it was first unveiled).
This year, look out for the special carriages decorated with Shakespeare quotations and characters in honour of the UK-Russia Year of Language and Literature and the 400th anniversary of the Bard's death.
Get a glimpse of rural Russia at Suzdal and visit Tolstoy's estate
I fell in love with the Russian countryside when I lived and worked in Kaluga, three hours south of Moscow. Anyone who is really interested in Tolstoy should try to see something of rural Russia, since it's a theme he explores so passionately through the character of Levin in Anna Karenina.
At Suzdal, one of the main villages of the Golden Ring northeast of Moscow, you can look out over rolling green fields and rivers before visiting the Museum of Peasant Life and Wooden Architecture. It gives an insight to a bygone agrarian way of life.
Tolstoy's connection to and interest in agricultural life is apparent if you visit the estate where he was born and lived for most of his adulthood, writing in his characteristic cramped style, which his wife Sofia would then copy out neatly by night. Yasnaya Polyana ('Bright Glade') makes for a peaceful, if long, day trip from Moscow (it's about a six-hour round drive). Yet it's a wonderful retreat from urban bustle.
Tolstoy's possessions and his extensive library are on display, and I suggest taking time to explore the grounds. You can see the pond where the writer would ice skate in winter and swim in summer, and the fields where he would work alongside labourers during the harvest season in order to better depict peasant life and farming on the page.
His grave, situated in a quiet dell, has no headstone – save for the bunches of wildflowers that are customarily left by newly married couples and admirers of his work.
Visit Audley Travel to help plan your trip to see Moscow, St Petersburg and the Golden Ring in Russia
Nick Slater is a Russia Specialist for Audley Travel. Audley trips don't come off the shelf – they're tailor-made down to the finest detail. When planning a trip with us, you will speak to a destination specialist who has either lived or travelled extensively within the country or region that you are visiting. They will create a bespoke trip based on your tastes, interests and budget and with an absolute commitment to providing quality travel experiences.
This article was brought to you in partnership with Audley Travel
Pin It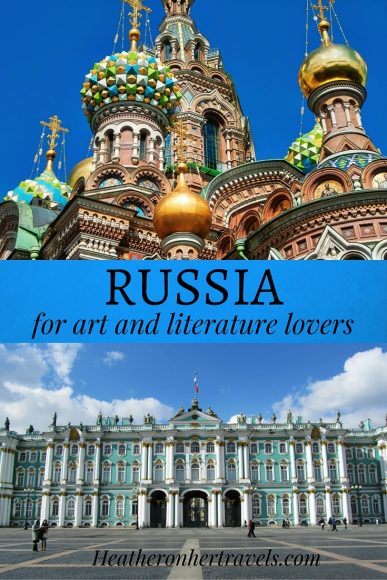 This article is originally published at Heatheronhertravels.com – Read the original article here
Bordering the United Arab Emirates and sporting luxury hotels to rival Dubai, Oman remains an enigma content to bask quietly in the shadow of its more showy neighbours. Muscat, the capital, is the springboard to Oman's natural wonders – its desert landscapes, and the mountain ranges that rise above them – and the Bedu people, desert dwellers who have adapted to the arid conditions.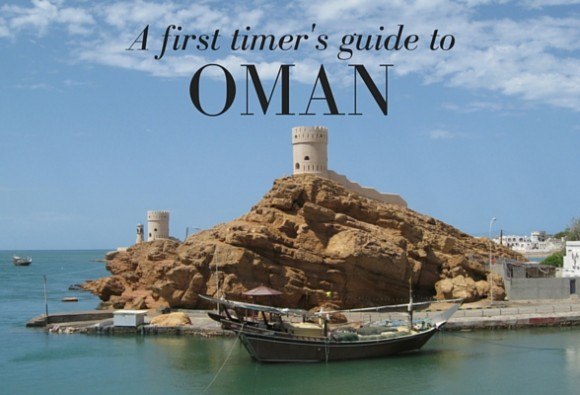 Most visitors to the Sultanate of Oman touch down in Muscat. Oman's capital city doesn't attempt to mimic the high-rise sheen of neighbouring Dubai or the other Gulf cities. It's more a collection of old fishing villages and ports edging the Gulf of Oman coastline. Among the more modern edifices, traces of Portuguese and Asian influences still remain in the older buildings – architecture that harks back to a time when the city was fought over for foreign rule.
The green orchards of the Jebel Akhdar mountains
Jebel Akhdar translates to Green Mountains, and this imposing inland range is a cooling respite from the desert heat at its feet. The climate up in this elevated position – which rises to 3,075 metres at its tallest peak, Jebel Shams – is akin to the Mediterranean. Terraces are farmed to grow fruits, such as peaches, which wouldn't withstand the conditions below.
Jebel Akhdar breaks the farmland that runs down to the coast and Muscat from Oman's Empty Quarter, and thousand-year-old forts and other UNESCO World Heritage sites were built on this strategic vantage point. You can now visit many of these sites after an initiative to restore and reopen them by Oman's current ruler Sultan Qaboos. We particularly recommend the well-known fort at Bahla, and Jabrin Fort with its brightly painted and decoratively carved cedar wood ceiling.
Walking trails dissect the mountains, and one of the most rewarding is the trek to the abandoned village of Wadi Ghul, which sits below the rim of Oman's Grand Canyon.
The rose gardens of the Saiq Plateau
The Saiq Plateau is the central formation of the mountains. You can explore the terraces that step the hillsides, where orchards grow fruit and almonds and rose gardens bloom in summer. The petals are pressed and filtered into rose water by the local farmers, and there is the opportunity to visit a local distillery to watch (and smell) this production.
The Alila Jabal Akhdar Resort has a dramatic location overlooking a gorge and makes for an elegant mountaintop retreat as well as a good base for exploring local trails. All rooms have panoramic views, but the outdoor infinity pool is possibly the best place of all for admiring the vistas.
Visit the Nizwa Livestock Market
Each Friday, farmers and their goats, sheep and cattle travel down from their villages in the Jebel Akhdar mountains to barter and trade at the Nizwa Livestock Market. Wandering among the throngs in Nizwa's main square, you can watch this platform of daily life for the Bedu, traditionally the nomadic peoples who inhabit Arabia's deserts. Both sexes get stuck in with the haggling, wearing the contrasting attire of long cooling white robes (the dishdash) for the men and bright clothes and intricate face veils for the women.
The historic city of Nizwa
The city of Nizwa, a two-hour drive southwest of Muscat, was Oman's capital for a brief spell in the 6th and 7th centuries. Its deep-seated Islamic traditions are evident in its many mosques, but perhaps its most obvious feature is the 40-metre-tower of the 17th-century Nizwa Fort.
Nizwa is a much wider trading hub than just a place to swap livestock. In the souq, antiques, spices and crafts fill the stalls and you can buy wares from silversmiths, potters, jewellers and other craftspeople.
Close to central Nizwa, The Falaj Daris has two swimming pools set in landscaped gardens and an outdoor barbecue area. This is the only hotel in town, but we also recommend The Golden Tulip. It's a 15-20 minute drive away from Nizwa, but in the mountains with a fantastic view. A tasteful property built in the traditional Omani architectural style, all rooms overlook the swimming pool, with the Hajar mountain range in the background.
Camp in the desert in the Wahiba Sands
If you crave solitude, the stretching golden sands of the Wahiba desert, not far from Nizwa and a four-hour drive out of Muscat, are untouched by inhabitants save the scatterings of Bedouin tribes who have made permanent homes around its southern perimeter.
Sunset is, perhaps, the most magical time to be in the midst of these shifting sands, watching the dunes graduate through an extravagant mixture of honey-coloured hues into a deepening crimson before darkness falls.
Camel rides and quad biking in the desert
It's possible to camp out under the desert sky and sample Bedouin hospitality. The Desert Nights Camp even offers the chance to sleep under canvas without compromising on comfort. Its air-conditioned tents have private bathrooms, bedrooms and lounges. Activities include camel rides and quad biking. We also like its location, nestled between two high sand dunes but easily accessible from the main road.
Believed to be about 6,000 years old, the Sands' dunes measure up to 80 metres high. The fine-grained sand is ever moving, teased by the wind, and the tracks made by your 4×4 will soon disappear. They make a surprisingly lively habitat for some 150 species of plants and 200 species of animals, including desert foxes and the white-tailed mongoose.
Watch nesting turtles at Ras Al Jinz
Back on Oman's coast, the Ras Al Jinz Scientific and Visitors' Centre offers a neat stopping place between the Wahiba Sands and Muscat. The Arabian Peninsula's most easterly point, the small cove is a hotbed for nesting green turtles which clamber out of the water year round to lay their eggs in dugouts in the golden sand. The most prolific time for egg-laying is between July and September, although this coincides with Oman's hottest weather.
Green turtles are the largest of all hard-shelled turtles. You'll be able to watch the females as they each lay somewhere between 100 and 200 eggs, and the resultant hatchlings' struggle to reach the ocean.
The emphasis of the centre is on conserving the population, and this means any handling is discouraged. When you learn that only 0.01% of all the green turtle babies will survive into adulthood, you start to understand why.
You'll stay at the only accommodation option, Carapace Lodge, which is part of the centre. As such, it is pretty basic with the choice of rooms or tents. Look at it as a practical option for being close to the turtles, and being able to walk down to the beach to watch them in the early mornings.
With all year round sunshine, Oman offers renowned Arabian hospitality, a traditional culture and unspoiled natural beauty. From the spectacular coastline at Muscat to the imposing rugged interior mountain ranges, Oman is just waiting to be explored.
This post was brought to you by Audley Travel. Audley trips don't come off the shelf – they're tailor-made down to the finest detail. When planning a trip with us, you will speak to a destination specialist who has either lived or travelled extensively within the country or region that you are visiting. They will create a bespoke trip based on your tastes, interests and budget and with an absolute commitment to providing quality travel experiences.
Pin It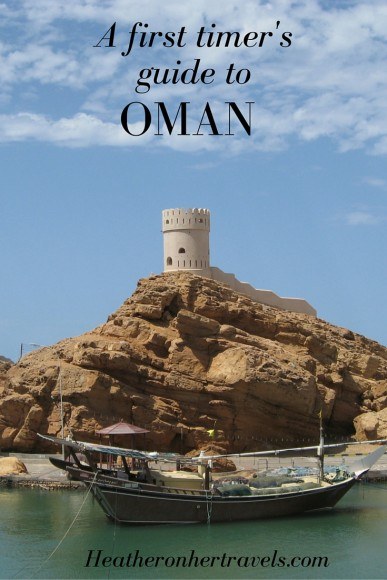 This article is originally published at Heatheronhertravels.com – Read the original article here
October 13, 2015 by Guest Author
Filed under Beaches and swimming, Eating and drinking, Europe, featured, Guest post, Leisure, Misc, Nature, Sightseeing, Turkey, Walking
In this guest article teenage traveller, Reka Kaponay shares her excitement at a walk in the Saklikent Gorge, Turkey, wading through icy water and taking a mud bath, before the day ends with a traditional Turkish meal. Reka writes;
As I lay in my bed, it took a few seconds before I realised again in sheer excitement, I'M IN TURKEY! Today we were heading out to what is arguably one the most beautiful natural wonders of this region, Saklikent Gorge, a 300 meter deep canyon that is close to Fethiye, forged through the power of the water's elemental force, cutting its way through sheer rock over thousands of years.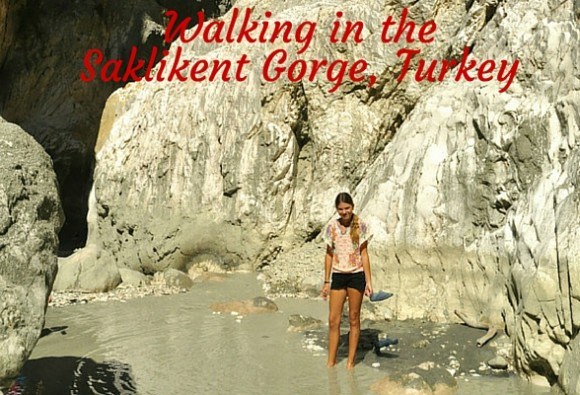 A bus ride to the Saklikent Gorge
Given that it was late September and no longer high tourist season, the bus ride was filled with a couple of explorers like ourselves, but mainly with locals who were making the trip home to rural villages that lay in-between the canyon and the touristy Fethiye.
After an hour and a half, we finally descended into a deep ravine which signalled our arrival. As we got our bearings, we realised that we would be wading through water and mud over rocky terrain and would need to leave our shoes behind.  A row of stalls lined the entrance to the gorge, hiring plastic wading shoes to all the visitors.
I looked up to see a towering ravine of ancient rock formations in front of me. It was as if I was at the entrance to a medieval fortress that would only allow me entrance if I knew its secret password. The view was entrancing and at the same time awe inspiring, knowing that the simple flow of water had sculpted this natural beauty. I stood on the suspension bridge looking deeply into the rapid flow of the river below me.
As we entered the park, we were swamped by tour guides trying to sell us their services for similarly ridiculous mark ups to that of the cab drivers of Marmaris. We ended up bringing helmets as a small precaution, but five minutes later we were taking them off and even leaving them behind to pick them up on our return journey, rather than lug them around for the rest of the walk. First, however, we had to enter the canyon and before us was a raging torrent of water about 20 meters across, that we would have to wade through to get to the entrance of the gorge.
An icy-cold plunge!
Pants rolled up and newly acquired wading shoes on, we plunged feet first in the water. I lost my breath when my feet made contact with the element. Pain shot up my legs and my toes felt like they had contracted frost-bite in a few simple seconds. My whole foot had turned numb. I shot out of the water, fast as a hare, shrieking like a hyena. I'm sure it was a sight to see. Lalika and Dad seemed to bear it better, as they were the first to begin heading through the fast flowing waters.
Soon it was up to their knees, but battling their way through they were the first of our family to make it across. During this time I was contemplating if I really wanted to go through with this. The look on Mum's face showed me that there was no alternative and with a renewed collective determination, Mum took my hand and we began making our way through the ice cold water to the sound of Lalika's cheers.
I nearly slipped at one point but thankfully I recovered in time and Mum and I emerged from the water half dry and very happy. The ice crystal water had somehow instantly rejuvenated my curiosity and I was keen to see what mysteries lay beyond the curves of the deep ravine in front of me.
Wading through the clay
I began to wade through the softest flowing grey clay that had deposited itself over thousands of years between this magnificent Moorish pink gorge towering over me. I was surprised that the locals hadn't already made a beauty industry out of this, mining this natural resource, when I remembered that thankfully, it was a protected national asset, located behind the confines of a national park.
That didn't stop Dad and Lalika from making a mud pack, as the two of them smoothed the liquid clay all over their faces, arms and legs. The mud also made great war paint and Lalika and I had a really fun time applying it before role playing a fierce battle of the clans.
The canyon snaked its way in curves and arcs in what seemed like a never ending array of rocky colours of beauty. After about 45 minutes of walking, we came to a fork in the canyon. To the right you could make your way through waist deep mud and continue on. The other choice to the left was neck deep fast flowing river. These were the only two options to continue on.
We decided that this was our sign to turn back, but in truth you can continue up through the canyon for another 15 kms as it is 18 kms long. On the way back, we faced a small crisis when my brother lost one of his croc slippers in the muddy stream and we had to drop to our knees in the murky river feeling with our hands as to where it could be.
It took us a couple of minutes, with some airing of our frustration at his carelessness, but we finally found it. We stopped just before crossing back across the freezing river to take a moment to marvel at our current location. We managed to cross the river once again with no trouble and we emerged with frozen feet but joyful smiles.
Learning about local Turkish cuisine
Changing back into our shoes, the wolves in our stomachs reminded us that it was time to eat! Walking through a canyon for an hour and a half and half bathing in cold water, really works up an appetite! We wandered beyond the closest and obviously touristy oriented restaurants lining the river walk. We decided to walk a kilometre up the dusty road, away from the park in the direction of some local stalls and we were duly rewarded for our efforts.
We found a smaller traditional restaurant that was built over a natural spring that flowed right through the middle of it. There were no chairs to sit on. Instead you reclined on comfy colourful Turkish motif cushions, while you ate on a small luxurious raft floating on the water. This is where we learnt our third and I feel most useful Turkish expression – Gözleme.
Gözleme is a pancake-like unleavened bread, baked freshly on an open grill convex metal hotplate, and filled with all sorts of wonderful fillings like Feta cheese and spinach, or chives and potatoes, or any other combinations of meats and Turkish spices. Of course back in Australia we were already familiar with Gözleme, but not in the manner that this Turkish grandmother, dressed in her regional traditional costume, was working this convex hotplate, heated by traditional wood fire.
Her hand movements were so skillful, that it was almost as if she was conducting a symphonic orchestra to its crescendo, rather than making a pancake. It was mesmerising and almost as good to watch as it was to eat. The Gözleme was not the only fare on the menu of the day. As those that don't eat meat, we had a generous selection of figs, potato salad, roasted eggplant, beetroot, tomato and cucumber salad, french fries and of course more Gözleme to choose from… All of this was to the setting of this beautiful oasis of natural spring water and the surrounding granite mountains that embraced us.
It was extremely relaxing, so much so, that we all took a small traditional Turkish nap on our water raft bed. For me, this combined experience of the natural wonders and our lunch, were all the reasons why I need to recommend that if you are ever in this part of the country, then Saklikent Gorge is an experience not to be missed. Take a day away from the beach and you will be rewarded with a traditional Turkish experience.
Our ride back to Fethiye was hot and uncomfortable and the bus was packed to the brim with people from the villages returning to their jobs in the touristy Mecca that is Fethiye. I ignored this however, along with the heat, and dreamt of Gözleme and rocky gorges, as I dozed in and out of consciousness on the bumpy ride home.
Author Bio: Many thanks for this article to Reka Kaponay, a teenage life schooler traveling the world who blogs at Dreamtime Traveler
For more Turkish adventures:
Visiting Kusadasi and Ephesus on our Azamara Cruise
Istanbul the golden – final stop on our Azamara Cruise
The Delights of Dalyan: Family Fun in Turkey
Pin It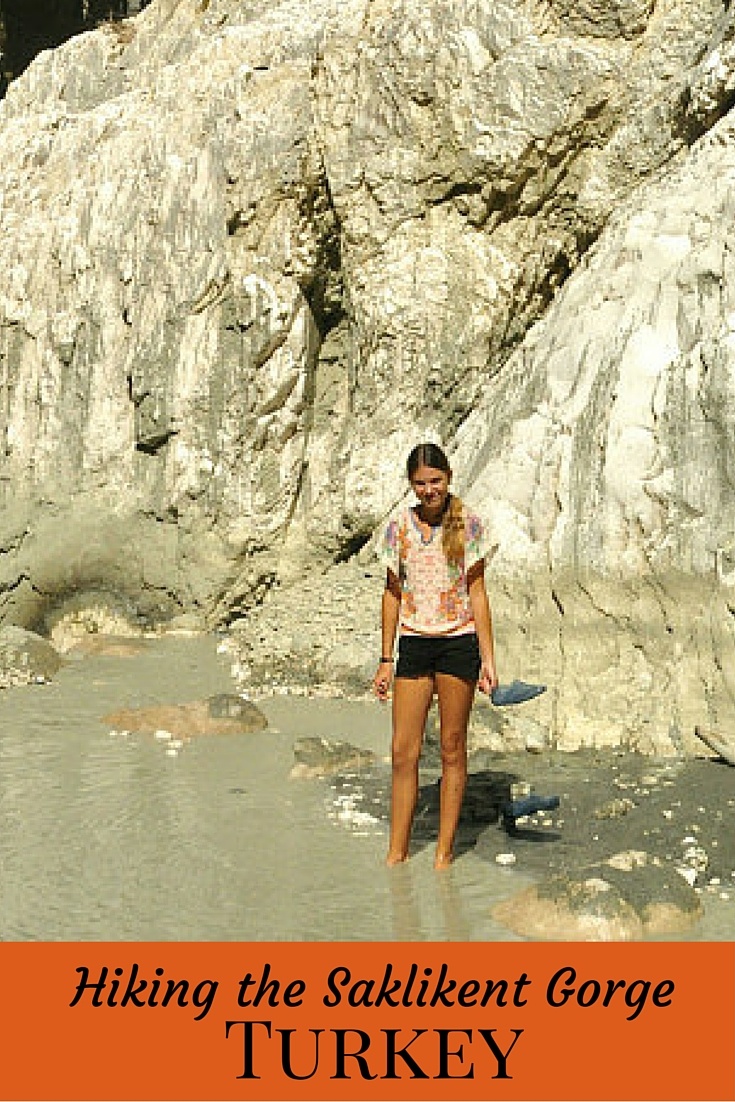 This article is originally published at Heatheronhertravels.com – Read the original article here
You'll also find our sister blog with tips on how to build a successful travel blog at My Blogging Journey